Activation Code for Garena Free Fire OB29 Advance Server: Download the OB29 APK Now! Free Fire releases a major update every two months to introduce new elements in the game. Such an update, named OB29 is expected to hit the global servers soon. With the OB29 Advance Server currently live, players can download the Advance Server APK to enjoy new features coming to the game. However, it is still a matter of weeks before the update comes to the global servers.
Free Fire OB29 Advance Server Registration
Garena Free Fire has opened registration for the OB29 Advance Server on their official website. Once Garena uploads the OB29 Advanced Server APK, registered players will be able to download the advanced server APK to experience new features coming to the game before its released globally.
Also Read: Garena Free Fire Weapon Royale: How to get Kord Killspark Shinobi skin in Free Fire
Free Fire OB29 Update: Garena also rewards its players with free Diamonds & other items when players help the developers by reporting bugs & other issues of the update. Here's your chance to register yourself in the OB29 advance server. Follow this article for further information regarding the same. Activation Code Garena Free Fire OB29 Advance Server
Read More: Free Fire India Region Redeem Codes 22nd July: Get Leap of Faith Surfboard, Guitar Basher for Free
Follow this step by step guide on how to pre-register for the Free Fire OB29 Advance Server and getting the APK file:
Step 1: To start off, click on this Link which will take you to the official Free Fire Advance Server website.
Step 2: Now, find the 'Login Facebook' button & click on it.
Step 3: Now players will be prompted to a form, which they must fill in with details that include their name, email ID & phone number.
Step 4: After submitting the correct details, players must click on the 'Join Now' option in order to complete the pre-registration process.
How to get Free Fire OB29 Server Activation Code?
Having limited slots, only a few players get selected who'll have access to the Advance Server. If selected, you'll receive an Activation Code from Free Fire in order which is like a password to access the advance Server.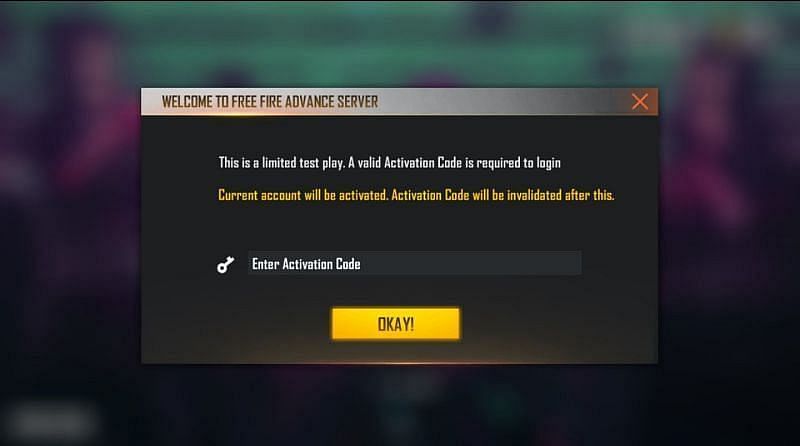 You can download the APK file for the Free Fire OB29 advanced server directly from the official website now.
Read More: Garena free fire Redeem codes: New Active Redeem codes Released: How to redeem in your country, India