CALL OF DUTY MOBILE Season 5 In Deep Water coming on June 28: New battle pass, operators, weapons, and maps: Conquer your opponents on the ground and water. Call Of Duty Mobile (CODM) Season 5 brings three new Multiplayer maps, the Sea of Steel limited-time event, a brand-new Battle Pass, and more. Read down everything coming this season.
CALL OF DUTY MOBILE Season 5: Call Of Duty Mobile approaches the open water for the battle. COD Mobile Season 5 In Deep Water is set to release on 28th June 2021 at 5 pm (PDT). Season 5 brings a new themed event, new multiplayer maps, new operators, new weapons with a brand new Battle Pass.
CALL OF DUTY MOBILE Season 5: Earn New Rewards for the CODM Season 5 In Deep Water Battle Pass
A fresh shipment of Battle pass is coming in the game where it will be available in two options Free and Premium. The new battle pass is featuring new water-ready operators, weapons, and many more items.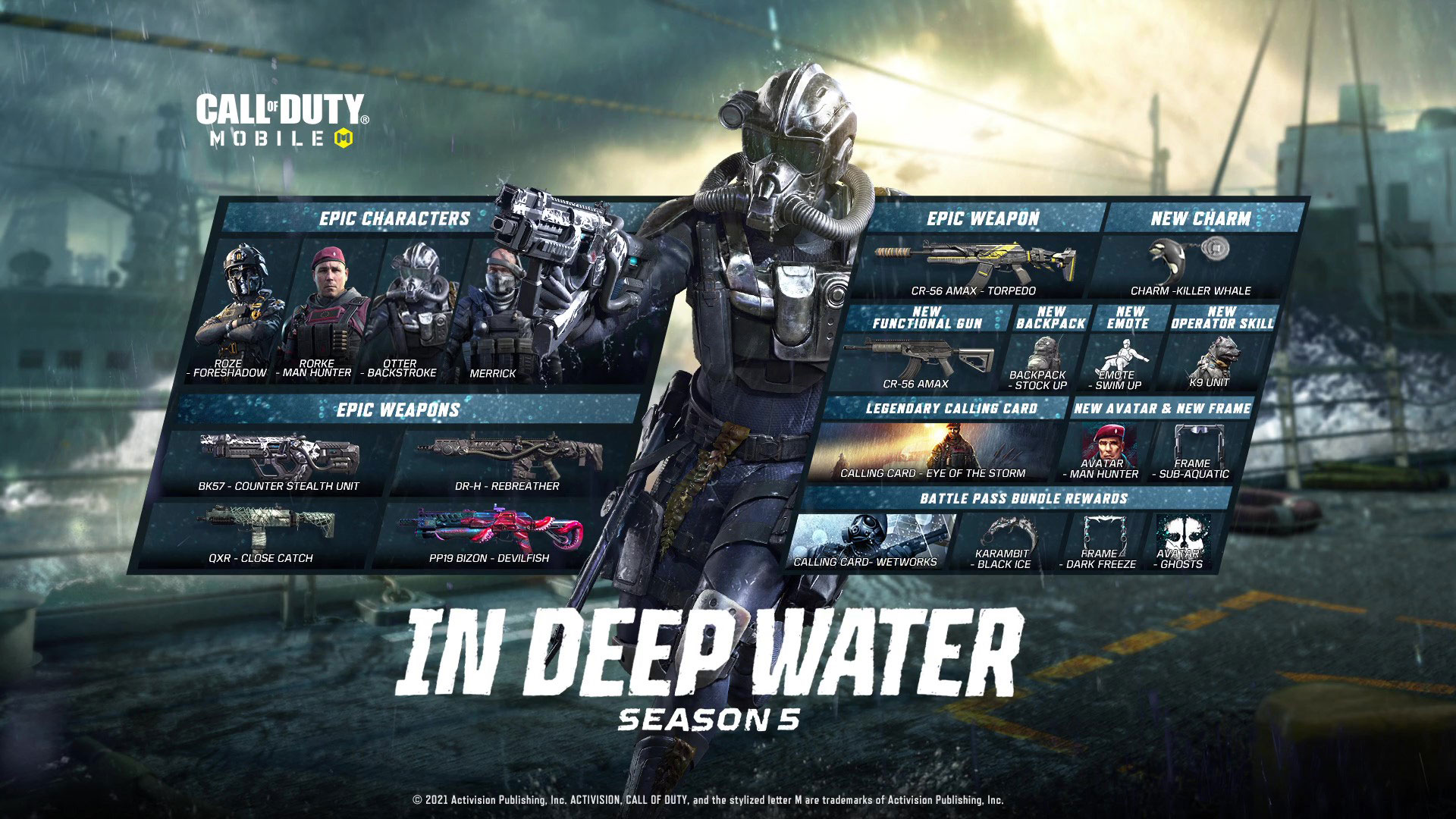 CODM Season 5 Battle Pass Free Tiers
Summon a trained companion with the new K9 Unit Operator Skill unlocked at Tier 14. Expand your arsenal with the new CR-56 AMAX functional weapon at Tier 21. Other free Tier items include the Kilo Bolt-Action – Warship, the Combat Axe – Lighthouse, and more.
CODM Season 5  Premium Pass Tiers
Purchase the Battle Pass for the chance to earn all of the content available in the In Deep Water stream. Get Merrick and Rorke – Man Hunter from Call of Duty: Ghosts, as well as Otter — Backstroke and Roze — Foreshadow. Intimidate your enemies with new Weapon Blueprints like the Ghost-themed BK57 — Counter Stealth Unit, the QXR — Close Catch, the DR-H — Rebreather, CR-56 AMAX, and the PP19 Bizon — Devilfish.
New Multiplayer Maps
– Suldal Harbor: Supported in 5v5 and 10v10 play.
– Docks:  Supported in Gunfight.
– Aniyah Incursion: Supported in 10v10, the new Ground Mission mode, and Attack of the Undead.
New Multiplayer Modes: Cranked: Confirmed and Ground Mission
COD Season 5 is bringing new multiplayer modes which are "Cranked: Confirmed" and "Ground Mission". Cranked state for a combat boost and keep the timer from running out by getting eliminations. Ground Mission brings Domination to the big stage with five capture points and 10v10 plays.
Read More: CODM Season 5 confirmed: Will be called 'In Deep Water' – Check out teaser