Copa America 2021 ARG vs PAR Result -Argentina beat Paraguay 1-0: Lionel Messi-led Argentina confirmed a place in the Copa America quarterfinals with a game to spare, courtesy of Alejandro Gomez's 10th-minute goal against Paraguay on Tuesday. Messi played the full match, while his new Barcelona teammate Sergio Aguero was subbed off after 60-minutes in the narrow 1-0 win.
Argentian stuck to their attacking strategy from the Uruguay match. They started the game with an attacking lineup designed for high pressing to cause problems with their movement.
Aguero had the first chance but missed it. Then Messi, Di Maria and Gomez combined to score the lone goal of the game.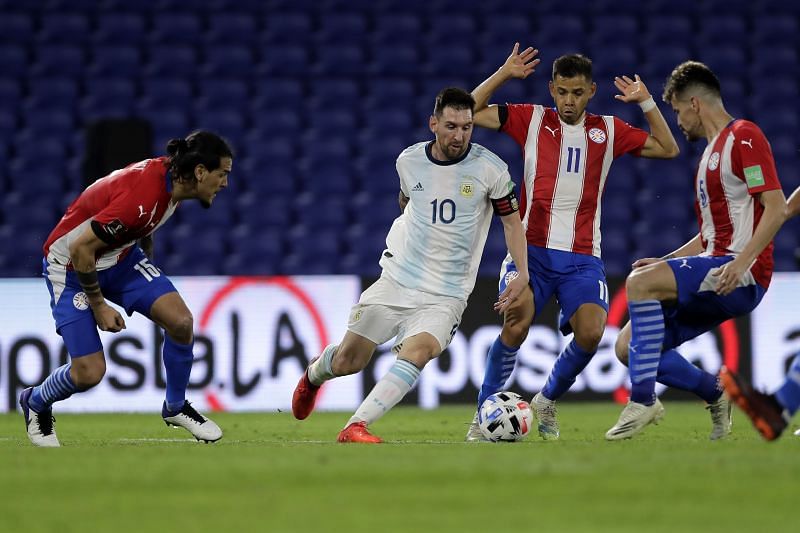 After getting the opening goal, the Argentinians retreated to stay solid at the back, similar to the Uruguay match. The park the bus strategy worked as Argentina had almost scored their second goal. Right before halftime, Paraguay's Junior Alonso scored an own goal but was disallowed for a Messi offside.
Paraguay started the second half with plenty of intensity, but their lack of quality passes and Emi Martinez never truly troubled Argentina.
Copa America 2021 ARG vs PAR Result -Argentina beat Paraguay 1-0: The Albiceleste was slow and lacked the finishing touch in the counterattack in the second half, and Messi had the only two shots on target for them.
The final whistle came to end a routine win for Argentina, who could have played much better but got all three points which was the goal coming into the game, especially with all the rotations made by Lionel Scaloni.
Argentina now have a full week to rest, and are back in action for the group stage finale next Monday against Bolivia needing only a point to finish in the top two — and avoid Brazil in the quarterfinals.
Copa America fixtures
DATE
MATCH
VENUE
TIME IN IST
Monday, June 14
Brazil vs Venezuela
Mane Garrincha
2:30 AM
Monday, June 14
Colombia vs Ecuador
Arena Pantanal
5:30 AM
Tuesday, June 15
Argentina vs Chile
Nilton Santos
2:30 AM
Tuesday, June 15
Paraguay vs Bolivia
Olimpico
5:30 AM
Friday, June 18
Colombia vs Venezuela
Olimpico
2:30 AM
Friday, June 18
Peru vs Brazil
Nilton Santos
5:30 AM
Saturday, June 19
Chile vs Bolivia
Arena Pantanal
2:30 AM
Saturday, June 19
Argentina vs Uruguay
Mane Garrincha
5:30 AM
Monday, June 21
Venezuela vs Ecuador
Nilton Santos
2:30 AM
Monday, June 21
Colombia vs Peru
Olimpico
5:30 AM
Tuesday, June 22
Uruguay vs Chile
Arena Pantanal
2:30 AM
Tuesday, June 22
Argentina vs Paraguay
Mane Garrincha
5:30 AM
Thursday, June 24
Ecuador vs Peru
Olimpico
2:30 AM
Thursday, June 24
Colombia vs Brazil
Nilton Santos
5:30 AM
Friday, June 25
Bolivia vs Uruguay
Arena Pantanal
2:30 AM
Friday, June 25
Chile vs Paraguay
Mane Garrincha
5:30 AM
Monday, June 28
Brazil vs Ecuador
Olimpico
2:30 AM
Monday, June 28
Venezuela vs Peru
Mane Garrincha
2:30 AM
Tuesday, June 29
Uruguay vs Paraguay
Nilton Santos
5:30 AM
Tuesday, June 29
Bolivia vs Argentina
Arena Pantanal
5:30 AM
Quarterfinals
Saturday, July 3
2B vs 3A
Olimpico
2:30 AM
Saturday, July 3
1B vs 4A
Nilton Santos
5:30 AM
Sunday, July 4
2A vs 3B
Mane Garrincha
3:30 AM
Sunday, July 4
1A vs 4B
Olimpico
6:30 AM
Semi-finals
Tuesday, July 6
WQF1 vs WQF2
Nilton Santos
4:30 AM
Wednesday, July 7
WQF3 vs WQF4
Mane Garrincha
6:30 AM
Third Place
Saturday, July 10
LSF2 vs LSF1
Mane Garrincha
5:30 AM
Final
Sunday, July 11
WSF2 vs WSF1
Maracana
5:30 AM
Copa America 2021 ARG vs PAR Result -Argentina beat Paraguay 1-0:
For more sports news and Copa America latest updates, follow us at insidesport.co