FFWS 2021 Rewards: Andrew's Challenge & Check Free Fire World Series Rewards, How to claim? To celebrate the biggest Free Fire tournament of the year, Garena has introduced exciting new events in the game. Titled the "Andrew's Challenge" and "Peak day Play Time", the events offer players a chance to grab the Andrew character, Panda Skin &  an exclusive FFWS 2021 emote for free.
How to obtain rewards from the Andrew's Challenge Event? FFWS 2021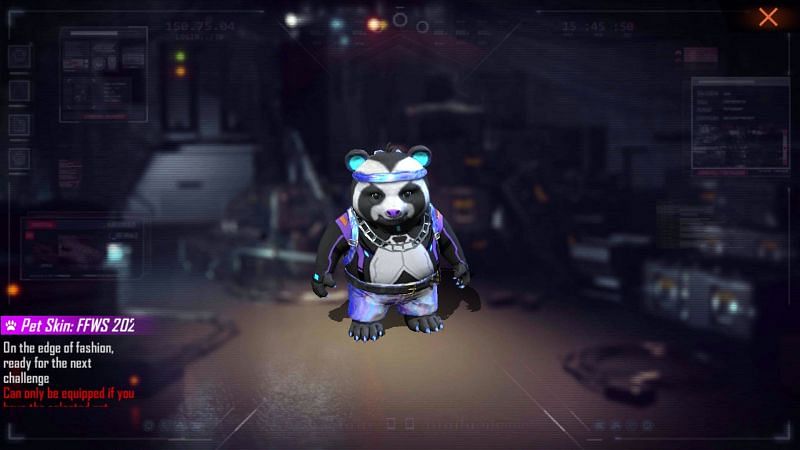 "Andrew's Challenge" has started today & will conclude on 7th June, 2021. To collect the Andrew character & Panda Skin, players must complete a number of missions under the "Andrew's Challenge" event. These are the rewards for the respective challenges:
Andrew character: Login 1 day
100x Memory Fragment (Andrew): Play five matches using Andrew character
Pet Skin: FFWS 2021 Panda: Play 10 matches using Andrew character
In order to obtain the rewards, players just need to log in to the game a play a number of matches with the Andrew character. Further, you can follow these steps below to claim your rewards.
Step 1: Tap on the Calendar icon, then Go to the FFWS tab and select the "Andrew's Challenge" from the list.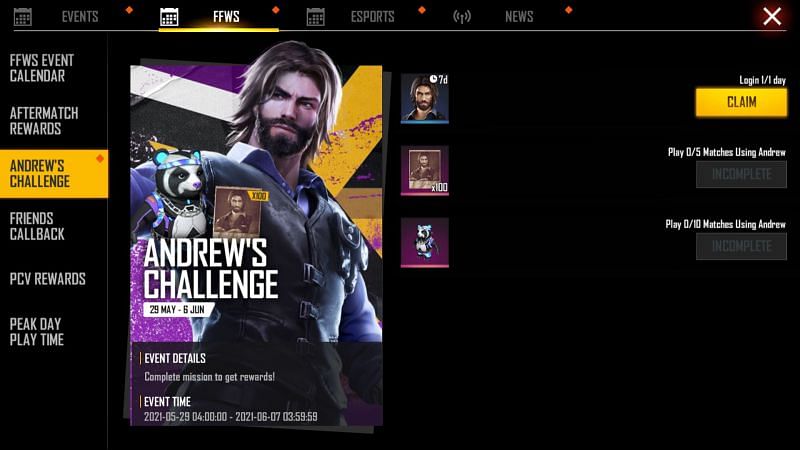 Step 2: First, 'Claim' the character from the rewards section, then after completing the specified number of matches come back to the same section & collect the respective rewards.
Also Read: Free Fire World Series 2021 Singapore Grand Finals: Check qualified Teams, schedule, Where to Watch?
List of Rewards for Respective Milestones: Free Fire World Series Rewards
Players can watch the Free Fire World Series on the Booyah app & on the official YouTube channel of Free Fire India on 30th May, 2021 from 6:30 PM IST.
Tier 3: 150k Live Viewers
Diamond Royale Voucher
Universal Fragments
Tier 2: 300k Live Viewers
Players can choose any character from a list of 26 characters. The names of the available characters are listed below.
Ford
Kelly
Luqueta
Hayato
Wukong
Rafael
Kla
Wolfrahh
Antonio
Maxim
Alvaro
Wukong
Rafael
Miguel
Notora
Caroline
Shani
Moco
Steffie
Clu
Nikita
Paloma
Laura
Misha
Dasha
Olivia
A124
Kapella
Tier 1: 450k Live Viwers
Upon reaching this milestone, players can claim any of the seven rewards listed below.
Kungfu Emote
Let's Go Emote
M79- Hipster Bunny
MP40- Carnival Carnage
Gloo Wall – Aurous Dragon
Gloo Wall – Nuclear Bunker
Gloo Wall – Dragon Sea