Grizzlies vs Jazz Game 4 Live in NBA Playoffs: Memphis Grizzlies vs Utah Jazz- 1st June NBA LIVE stream, watch online, Schedules, Date, India time, Live Link, Scores: Jazz wins 120-113 to take a 3-1 lead in the series
The Utah Jazz takes a 3-1 lead in the series against the Memphis Grizzlies in the NBA Playoffs 2021. In a hard-fought battle, the Jazz came out clutch in the 3rd quarter where they outscored the Grizzlies by 9 points.
Despite a double-double from Valanuinas and Ja Morant, the Grizzlies will head back to Utah to play Game 5 of the series. Morant had 23 points, 12 assists, and 6 rebounds. While the Memphis big man had 14 points and 12 rebounds.
While Donovan Mitchell and Rudy Gobert scored the most points from the starting 5, it was an impressive performance by the 6th Man of the Year Jordan Clarkson who came off the bench to score 24 points in 22 minutes.
Memphis just could not get the go from behind the arc. They shot a poor 28.6% from the 3-point range but scored most of their points from inside the paint.
The Jazz shot an impressive 48.6% from the 3-point range and 45.9% from the field to take away the win. Both the teams only missed 3 free-throws and even though the Grizzlies outscored the Jazz in the 4th quarter by 6 points, it was not enough for them to tie the series before going on the road.
NBA Playoffs to be live-streamed in more than 200 countries. Watch NBA Playoffs Live here.
Match Details: Memphis Grizzlies vs Utah Jazz
Time: 07:00 A.M. (IST)
Date: 01-06-2021
Venue: Wells Fargo Arena, Philadelphia
NBA Playoffs Live Stream: Memphis Grizzlies vs Utah Jazz- Match Preview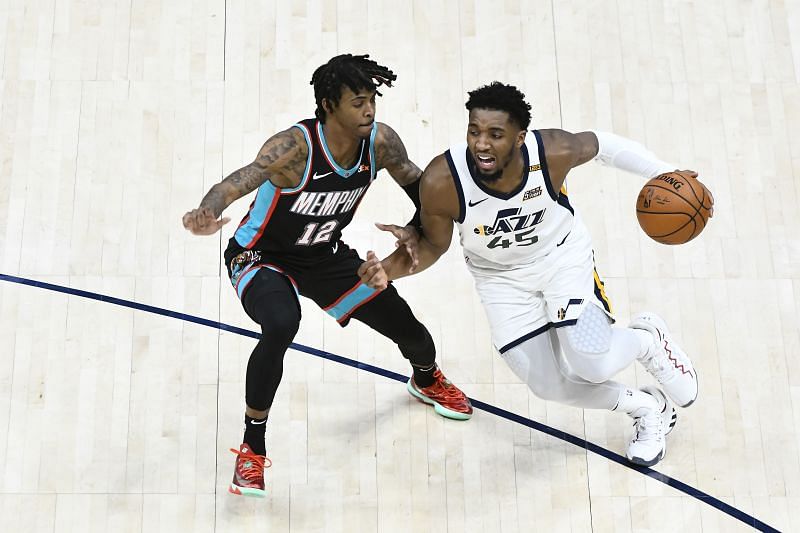 NBA fans can watch the NBA Scores and games LIVE here.
NBA TV coverage: Grizzlies vs Jazz live in NBA Playoffs 2021
NBA games will be broadcasted nationally across ESPN and TNT.
NBA Playoffs 2021 Live stream: Grizzlies vs Jazz live stream
Every game will be available live via NBA TV, while the nationally broadcast game will also be available via ESPN digital platforms.
NBA Playoffs Schedule: Find the latest NBA Playoffs Schedule here