Hope Ascension Event Free Fire: Check how to get Hand of Hope Gun Skins & Price: The "Hope Ascension" event kickstarts today that comes with a number of robust gun skins including the "M1887 – Hand of Hope" and the "Plasma – Hand of Hope." Unlike regular cosmetics in Free Fire, the Free Fire gun skins play a vital role in the game as it increases stats weapon resulting in better performances during matches.
How to get Hand of Hope Gun Skins from Hope Ascension Event?
To get their hands on the M1887 – Hand of Hope gun skin, players have to make spins using Diamonds & collect special tokens. One spin costs 20 diamonds, while a set of 5 spins cost 90 diamonds. Upon collecting a number of tokens, players can use them to redeem the lucrative gun skins. The Hope Ascension event is live till 18th of June.
Hand of Hope – M1887 & Plasma Cost?
As per the progress rate per spin, to get the highest reward, M1887 – Hand of Hope, you need more than a thousand diamonds. You can make 5 Spins at one go to save some diamonds along the way.
Here's the token cost for respective rewards:
M1887: Hand of Hope – 5 Legends Tokens
Blueprint: Safari Riot – 4 Legends Tokens
Plasma: Hand of Hope – 3 Legends Tokens
Heart of the Dead (Surfboard) – 2 Legends Tokens
The Death Skill (Parachute) – 1 Legends Token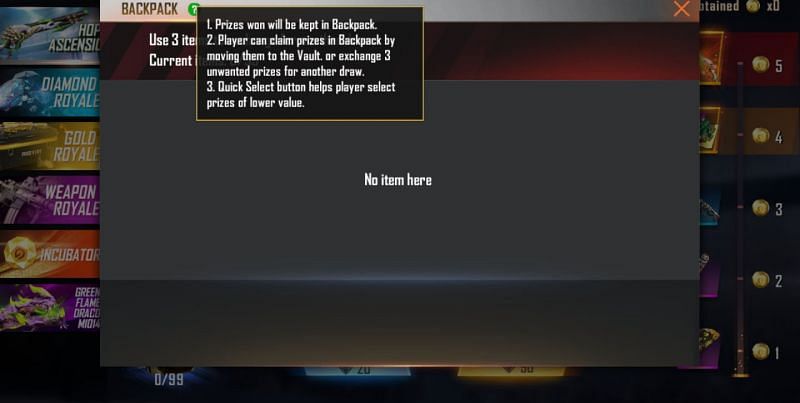 Note: The prizes that players get by using the tokens will be stored in the Backpack. To claim the item players must move them to the vault. If they do not wish to claim the item, they can exchange 3 items for another spin.
Also Read: Garena Free Fire's Rampage campaign back for its 3rd edition, headlined by theme song by DJ-duo Dimitri Vegas & Like Mike
List of rewards from the Hope Ascension Event
Legends Token
Cube Fragment
Dragon Fang
Bounty Token
Resupply Map
Weapon Royale Voucher
Diamond Royale Voucher
Memory Fragment (Xayne)
Memory Fragment (Maro)
Memory Fragment (Shirou)
Memory Fragment (Skyler)
Memory Fragment (Chrono)
Memory Fragment (Dasha)
Memory Fragment (K)
Winterlands AK Weapon Loot Crate
FAMAS-Moonwalk Loot Crate
Double EXP Card (24h)
Double Gold Card (24h)
Scan
Pet Food
Universal Fragment
Gold Royale Voucher
Master of Minds Weapon Loot Crate
Rebel Academy Weapon Loot Crate
Imp-Heads Weapon Loot Crate
Loose Cannon Weapon Loot Crate
Artificial Intelligence Weapon Loot Crate
Water Elemental Weapon Loot Crate
M4A1 – Cataclysm Weapon Loot Crate
Ice Blue Weapon Loot Crate
Shark Attack Weapon Loot Crate
Imperial Rome Weapon Loot Crate
Pharaoh Weapon Loot Crate
Titanium Weapon Loot Crate
Bumblebee Loot Crate
How to access the Hope Ascension event in Free Fire and grab M1887 – Hand of Hope & other items?
Follow these simple steps to grab your desired rewards.
Step 1- Click on the 'Calander' icon on the main menu & open the 'News' tab.
Step 2- Under news section select the 'Hope Ascension' tab & tap on 'Go To'
Step 3 – The event screen will apeear & from here you can make the spins using Diamonds.
Step 4-  Once you earn 5 tokens using the spins, you can unlock the M1887 – Hand of Hope and Plasma – Hand of Hope
Read More: Free Fire x Street Fighter Collaboration: Check out Cool New Skins Coming to the Game