ICC World Test Championship — Ind vs Aus 3rd Test very crucial in race to WTC final: The third test between India and Australia starting January 7 (Thursday), will have a major impact on the race to the WTC final. The four-match Test series is currently level at 1-1, which makes the New Year Test even more important. India would like to win the third test as it will give them a mental edge when they prepare for the Brisbane Test. However, a loss would put pressure on India as New Zealand have registered another clean sweep.
ICC World Test Championship Race: What is the status currently? 
Australia and India are ahead in the points table on that basis. The Men Down Under, who overtook India to the top position after the change in regulations from maximum points to percentage points, are currently on 0.766 two-match into their four-match home series against India. India are on 0.722 playing their fifth series.
ALSO READ| India's playing XI vs Australia for 3rd Test
New Zealand, on the other hand, are currently third with 0.70 percentage points. 
ICC World Test Championship Race: India in a must-win situation to avoid pressure 
Ajinkya Rahane-led India turned the table on Australia after beating them by 8 wickets in Melbourne. With the win they secured 30 points and levelled the Border-Gavaskar series. A win in the third Test would take them to 0.70 percentage points. However, a loss would cost them crucial pct points. Furthermore, given Gabba being Australia's stronghold, India would be in a difficult position. A defeat in the fourth Test would mean they will have 0.65 percentage points.
ALSO READ| Australia's Playing XI vs India for 3rd Test
New Zealand, on the other hand, after a clean sweep against Pakistan now have 420 points and 0.70 percentage points. So, if India, win it both the teams will get levelled. In this situation, it is likely that the most matches will come into play as both New Zealand and India have played five Tests each.
If the 'most matches played' comes into account, the Kiwis will become the second-ranked team as they have 10 games so far.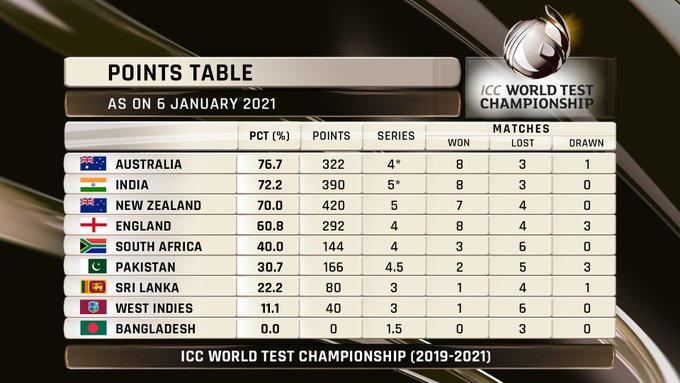 Who will play the WTC Finals? The top two sides at the end of the league on percentage points will play the final. Each series of the league is worth 120 points, distributed evenly over the number of matches in a series, ranging from 60 in two-Test series to 24 for a five-Test series.
Distribution of points in ICC World Test Championship
Matches in series
Points for a win
Points for a tie
Points for a draw
Points for a defeat
2
60
30
20
0
3
40
20
13
0
4
30
15
10
0
5
24
12
8
0