India vs Japan India defeat Japan 5-3 to continue impressive form; Follow Highlights: A couple of goals from Gurjant Singh and fine strikes from Harmanpreet Singh, Nilakanta Sharma and Simrajit Singh has helped India win back to back matches at Tokyo Olympics. In response, Japan managed to net as many as three goals in their final match at Tokyo Games. India continue to be placed 2nd in Pool A below leaders Australia in the points table.
This was India's fourth win of the ongoing quadrennial event. The Men In Blue will next be in action in the quarter-finals of the mega event. Japan might have scored three goals but the Indian boys made sure the Men in Blue were in the lead throughout the game and dominated proceedings.
NOTE: Japan cannot reach the quarter-finals, but the host will want to end their campaign on a high! Match underway.
Just two minutes before the end of the third quarter, India earned their second Penalty Corner only to miss the net. But the Indians were in the lead (3-2) with one quarter to go.
Both teams got off to a cautious start but the Manpreet Singh-led side broke the shackles and netted the first goal in the 13th minute.
Gurjant Singh then scored early in the second quarter as India doubled the lead over Japan. However, Japan came back with a goal as Tanaka opened the team's account.
In the third quarter, Kota Watanabe scored an equaliser but Shamsher Singh again put India on top as he scored a goal in the 34th minute. At the end of the third essay, India led 3-2 with a thrilling final quarter on cards. In the final quarter, Nilakanta Sharma doubled India's lead after a desperate attempt from both sides to find the net.
Tokyo Olympics Hockey: Gurjant Singh strikes twice as India defeat Japan 5-3 to continue impressive form
@4:35 PM: India wins 5-3
@4:33 PM: GOAL! Kazuma Murata scores
@4:28 PM: GOAL! Gurjant Singh scores again, India leads 5-2
@4:25 PM: First penalty corner for Japan, misses
@4:23 PM: Penalty corner for India.
@4:20 PM: GOAL! Nilakanta Sharma gets his name on the scoreline, India lead 4-2
@4:17 PM: Japan are pressing hard for an equaliser
@4:12 PM: Fourth-quarter underway
@4:10 PM: Nilakanta Sharma's shot saved by Japan Goalkeeper. India lead 3-2 after third quarter
@4:07 PM: Penalty corner for India, Harmanpreet Kaur takes the shot
@4:05 PM: India dominate possession and circle penetrations
@4:03 PM: Free-hit to India
@3:58 PM: Sumit comes up with a crucial save
@3:56 PM: GOAL! 3-2, Shamser Singh brings India back in the lead
@3:53 PM: GOAL! 2-2, Kota Watanabe scores equalizer
@3:52 PM: Player save from Serena Tanaka as India dominates
@3:50 PM: Third-quarter begins
HALF TIME. 
@3:43 PM: India lead 2-1 after 2nd quarter. 
HALF TIME. India take a narrow lead into halftime thanks to goals from Harmanpreet and Gurjant, with Tanaka pulling one back for Japan. 
@3:40 PM: Seren Tanaka with a save for Japan
@3:35 PM: Japan's Shota Yamada injured
@3:33 PM: India putting pressure on Japan in dying moment of 1st half. Hardik Singh looking to stretch India's lead
@3:30 PM: India continue to dominate in terms of possession
@3:28 PM: Kenta Tanaka and Kazuma Murata trying their best to find an equaliser against India
@3:23: GOAL! Japan strikes its opening goal. Kenta Tanaka reduces the deficit
@3:20 PM: GOAL! India 2-0, Gurjant Singh doubles India lead after Simranjit Singh's shot save
@3:15 PM: Second-quarter begins
@3:12 PM: First penalty corner of the game, in favor of India. GOAL! India 1-0 Harmanpreet Singh hits
@3:10 PM: Hiromasa Ochiai misses a shot for Japan
@3:06 PM: Vivek Sagar Prasad makes an impressive save
@3:02 PM: India looking strong from the early start, good passing in the midfielders
@3 PM: First-quarter begins
@2:55 PM: India players take to the ground with the National anthem of both nations
@2:50 PM
Japan Starting XI:
Koji Yamasaki, Genki Mitani, Seren Tanaka, Kazuma Murata, kenta Tanaka, Yuma Nagai, Manabu Yamashita ©, Masaki Ohashi, Shota Yamada, Hirotaka Zendana, Takashi Yoshikawa
@2:45 PM
India starting XI:
Manpreet Singh ©, Sreejesh PR (GK), Lalit Kumar Upadhyay, Dilpreet Singh, Hardik Singh, Nilakanta Sharma, Sumit, Amit Rohidas, Birendra Lakra, Harmanpreet Singh and Surender Kumar
Match Details: India vs Japan
Time: 03:00 PM
Location: Oi Hockey Stadium North Pitch
When will India vs Japan Tokyo Olympics Hockey will be Started? – Date
India vs Japan Tokyo Olympics Hockey will start on July 30
What Time India vs Japan Tokyo Olympics Hockey Will begin? Time
India vs Japan Tokyo Olympics Hockey Will begin at 03:00 PM IST
What are the venues for India vs Japan Tokyo Olympics Hockey match? – Venue
India vs Japan Tokyo Olympics Hockey match will be played at Oi Hockey Stadium North Pitch
How do I watch live streaming of the India vs Japan Tokyo Olympics Hockey match?
Tokyo Olympics Hockey TV coverage: Match will be broadcasted live on DD National
Tokyo Olympics Live stream – India vs Japan Live stream: The match will be LIVE Streamed on SonyLIV & Live broadcasted on Sony Sports Network. The live updates for the match can be followed on InsideSport.co
India at Tokyo Olympics Hockey LIVE – India vs Japan 
India so far in the Tokyo Olympics –
First Match: India beat New Zealand 3-2
Second Match: India lost to Australia 1-7
Third Match: India beat Spain 3-1
Fourth Match: India beat Argentina 4-1
Good morning from Tokyo! 🇮🇳

Here are some glimpses from #TeamIndia's thumping win against Argentina. 📸#INDvARG #IndiaKaGame #HaiTayyar #Tokyo2020 #TokyoTogether #StrongerTogether #HockeyInvites #WeAreTeamIndia #Hockey pic.twitter.com/G6xFNXUVyI

— Hockey India (@TheHockeyIndia) July 29, 2021
India vs Japan Live: How to watch Tokyo Olympics Hockey IND vs JPN LIVE Streaming in your country, India
Currently, Japan sits at the last spot in Pool A with no hopes of qualifications. They have 1 point from 4 matches.
India won back-to-back games against Spain and Argentina after a tough 7-1 loss against Australia.
India has qualified so this result will not affect India's spot on the table.
The top 4 teams in each pool qualify for the Quarter-finals. India has lost only 1/4 matches- against Australia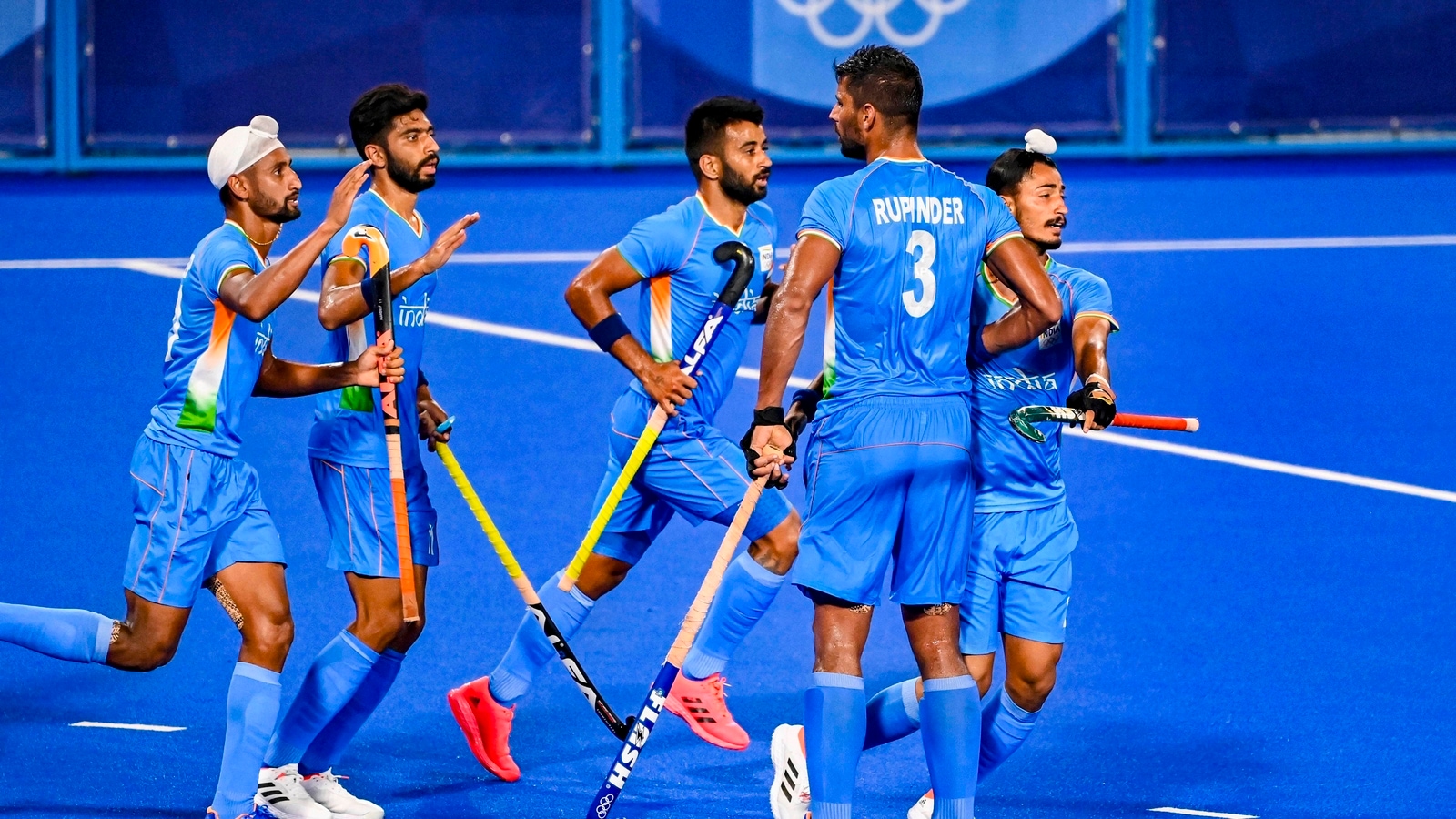 Tokyo Olympics LIVE Broadcast: Sony Sports to LIVE broadcast Tokyo Olympics on 5 network channels, live streaming on SonyLIV
| Country | GP | Pts | W | D | L | GF | GA | GD |
| --- | --- | --- | --- | --- | --- | --- | --- | --- |
| | 4 | 12 | 4 | 0 | 0 | 21 | 8 | 13 |
| | 4 | 9 | 3 | 0 | 1 | 10 | 10 | 0 |
| | 4 | 4 | 1 | 1 | 2 | 8 | 9 | -1 |
| | 4 | 4 | 1 | 1 | 2 | 10 | 12 | -2 |
| | 4 | 4 | 1 | 1 | 2 | 6 | 10 | -4 |
| | 4 | 1 | 0 | 1 | 3 | 7 | 13 | -6 |
India Hockey squad
Goalkeepers
P. R. SREEJESH
Defenders
HARMANPREET SINGH, RUPINDER PAL SINGH, SURENDER KUMAR, AMIT ROHIDAS, BIRENDRA LAKRA
Midfielders
HARDIK SINGH, MANPREET SINGH, VIVEK SAGAR PRASAD, NILAKANTA SHARMA, SUMIT
Forwards
SHAMSHER SINGH, DILPREET SINGH, GURJANT SINGH, LALIT KUMAR UPADHYAY, MANDEEP SINGH
Japan Squad
Koji Yamasaki, Genki Mitani, Seren Tanaka, Hiromasa Ochiai, Kazuma Murata, Kenta Tanaka, Kenji Kitazato, Yuma Nagai, Manabu Yamashita, Kaito Tanaka, Ken Nagayoshi, Kentaro Fukuda, Masaki Ohashi, Shota Yamada, Horotaka Zendana, Takashi Yoshikawa, Kota Watanabe, Yoshiki Kirishita
India at Tokyo Olympics: Indian Hockey Schedule
July 30
8:15 AM: Women's Pool A – India vs Ireland
3:00 PM: Men's Pool A – India vs Japan
July 31
8:45 AM: Women's Pool A – India vs South Africa
August 1
6:00 AM: Men's Quarter-Finals – if qualify
August 2
6:00 AM: Women's Quarter-Finals – if qualify
August 3
7:00 AM: Men's Semi-Finals – if qualify
August 4
7:00 AM: Women's Semi-Finals – if qualify
August 5
7:00 AM: Men's Bronze Medal Match
3:30 PM: Men's Gold Medal Match
August 6
7:00 AM: Women's Bronze Medal Match
3:30 PM: Women's Gold Medal Match
India vs Japan Live: How to watch Tokyo Olympics Hockey IND vs JPN LIVE Streaming in your country, India