Rajasthan Royals vs Chennai Super Kings
IPL 2020 KKR vs MI Live: East or West; Who is the best? Kolkata Knight Riders (KKR) vs Mumbai Indians (MI) live score, commentary, Playing XI
11.30pm
That's it from us here guys. See you again tomorrow with yet another mouthwatering clash between KKR vs MI
11.26pm
RR wins by 16 runs
Dhoni and Faf tried their best but failed to take CSK over the rope in the end as Steve Smith's Rajasthan secured a 16 runs win in their IPL 2020 opener
A 𝘀𝘂𝗽𝗲𝗿 win in Sharjah gets us off to the perfect start! 💗 #RRvCSK | #HallaBol | #RoyalsFamily pic.twitter.com/PR9JFOW4cs

— Rajasthan Royals (@rajasthanroyals) September 22, 2020
Match 4. It's all over! Rajasthan Royals won by 16 runs https://t.co/Fyhhx5FSSC #RRvCSK #Dream11IPL #IPL2020

— IndianPremierLeague (@IPL) September 22, 2020
11.23pm
Dhoni brings out the big guns
He smashes this one OUT OF THE GROUND and a bystander on thie road outside the stadium casually takes the ball away with him.
11.18pm
Du Plessis gone for 72
Archer sears in another bouncer, this time a quick one, and it's too fast for du Plessis as he is hurried into his shot. The pull fails to connect as he gloves one to Samson behind the stumps
11.15pm
48 off 12 balls
Tom Curran ends the 17th over well. CSK need 48 runs off 12 balls with Dhoni and du Plessis in the crease.
11.12pm
50 partnership comes up for Dhoni-Faf
11.08pm
45th IPL half-century for Faf 
And the Proteas brings it up in style with a smash over the rope. He smashes Unadkat over the bowler's head for another six to bring up his 50. CSK need 58 off 18 balls
11.02pm
Du Plessis hits two sixes
Two Sixes in the over, just what the doctor ordered for CSK.Faf du Plessis finding his touch. 16 runs coming from thus over but the problem is, CSK need close to 18 runs an over. So even 16 becomes below par.
10.59pm
After 15 overs, CSK are 131/5
86 runs are needed off the last five overs!
10.52pm
Kedhar Jadav gone for 22
Sanju Samson takes a cracking catch
That's the end of Kedar Jadhav's innings. It was a back of a length delivery from Curran, Jadhav went for big shot but got an outside edge and Samson flung his right hand up in the air to hold on to a fantastic catch.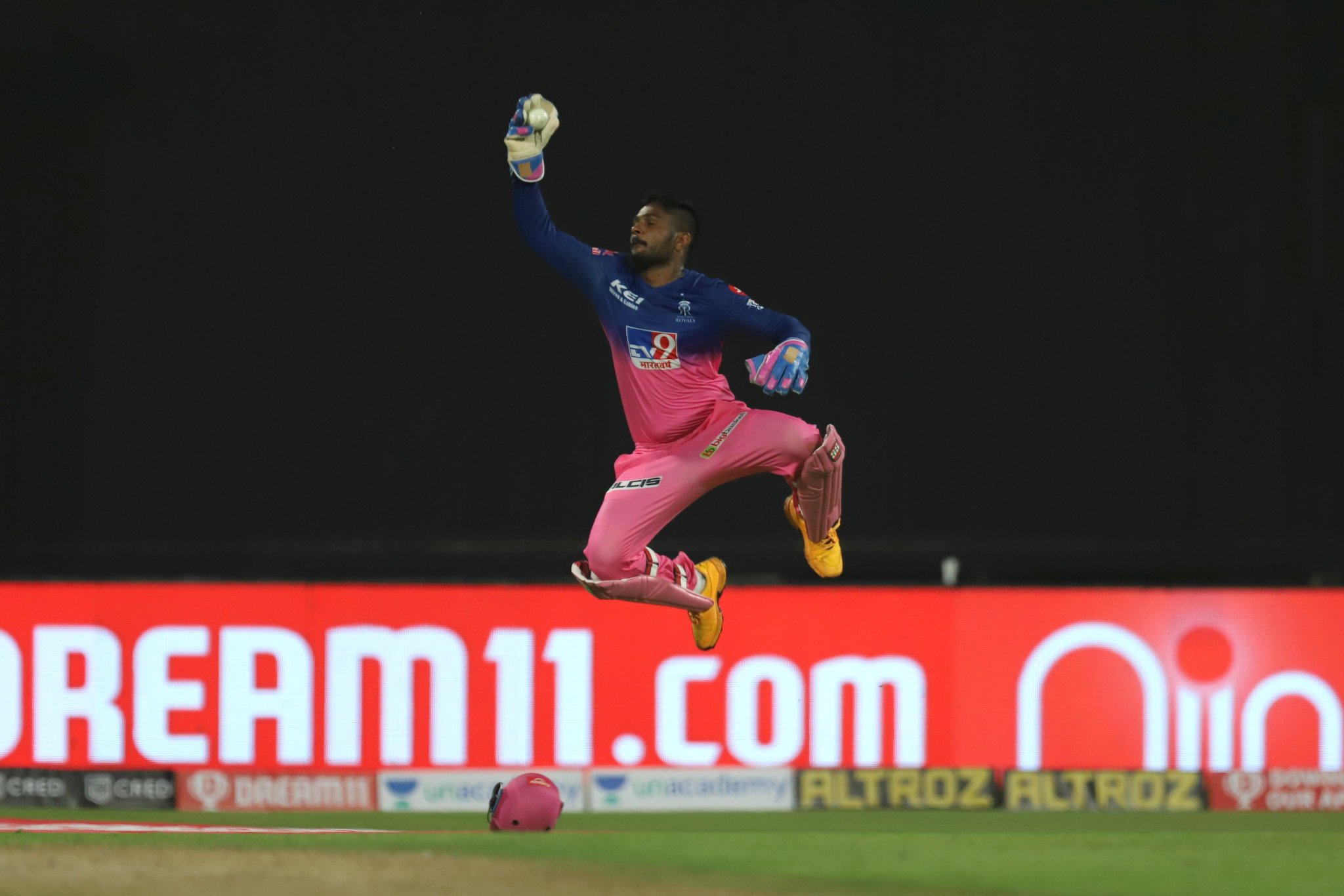 10.47pm
2nd strategic time out, RR in control
Only 7 runs off the Unadkat over when CSK's required rate is over 15. No real intent from Jadhav and Du Plessis. CSK still need 109 runs off only 42 balls. Someone has to go really
10.41pm
Bowling change for RR
Steve Smith has thrown the ball to his experienced bowler Jaydev Unadkat. That means, he might not keep for the death overs.
10.37pm
4,4,4
Room outside off and Jadhav does his business from the crease. He opens the face of the bat and hits one over point for four. The next ball is carved over covers for another four.
10.30pm
End of 10 overs; CSK 82/4 in 10 overs
Kedar Jadhav is the new batsman! CSK are in trouble! Jadhav and du Plessis need to stitch a partnership and they need to maintain the run rate as well. CSK need 135 runs from 60 balls.

10.26pm
Wickets falling like a pack of cards for CSK
Gaikwad comes dancing down the wicket on the first ball he faces and misses it completely.More stumping practise for Samson as Tewatia gets his third wicket.
10.22pm
First Strategic Time out 
10.21pm
Sam Curran gamble fails for CSK
Sweet revenge by Rahul Tewatia. He was hit for consecutive sixes by Sam Curran but he comes back with very nice googly to get his man. Curran made the mistake of coming down the track and missing it altogether.
10.15pm
Vijay is the next man to depart!
Vijay is the one who departs now as his miscued shot to the leg-side of the field is safely caught by Tom Curran. Shreyas Gopal takes the scalp. FOW- 58/2
10.10pm
Watson departs for 33
HE STRIKES! 💪@rahultewatia02 has clean bowled Watson. Much needed!#RRvCSK | #HallaBol | #RoyalsFamily | #Dream11IPL pic.twitter.com/lJTxNH2Gl5

— Rajasthan Royals (@rajasthanroyals) September 22, 2020
10.08pm
End of Powerplay!
17 runs from Tom Curran's over. Shane Watson has made up for the sedate start. CSK have raced to 53 for no loss at the end of the powerplay.
After 6 overs the @ChennaiIPL are 53/0

Live – https://t.co/Pd3S0Nm0Pn #Dream11IPL #RRvCSK pic.twitter.com/1L4E2SHakX

— IndianPremierLeague (@IPL) September 22, 2020
10pm
Shane Watson ends the 5th over with a six
SIX! CSK needed that desperately. Shreyas Gopal was going through a brilliant over after conceding a boundary early on. But he drops one short and Watson takes full advantage of it by pulling it for a six.
9.47pm
Both the batsman look solid as they are currently dealing in singles and doubles. However, Watson once set can be the key man for CSK. CSK-8/0 after 2 overs.
9.55pm
Five dot balls by Jofra Archer
Terrific comeback by Jofra Archer. After being hit for a six in the first ball, he goes back to his original tactic of hitting the hard lengths and doesn't give anything away to Watson. Five dot balls in a row. CSK need a move on.
9.30pm
Aaand we are back with the CSK chase
9.20pm
End of 20 overs
Rajasthan Royals, despite suffering a middle order collapse still manages to cross 200 runs mark. RR-216/7 after 20 overs
Innings Break!

Batting fireworks from Samson, a well made 67 from Steve Smith and a beauty of a cameo by Archer, propel @rajasthanroyals to a total of 216/7.

What do you reckon is in store next ?#Dream11IPL #RRvCSK pic.twitter.com/aX0cr1TNco

— IndianPremierLeague (@IPL) September 22, 2020
9.15pm
200 comes up for Rajasthan
9.10pm
What a comeback by CSK this has been! 
Curran gets Smith as the batsman fails to clear the mid-wicket fence and finds Jadhav in the deep.
Smith flicks it uppishly, trusting his bottom hand, but doesn't get the power.
https://twitter.com/IPL/status/1308431197031161858
9.06pm
Curran called back after being given out
Tom Curran wanted to take a review but RR don't have one. The umpires consult but decide to give Tom Curran out. The replays clearly show that the ball hit his thigh pad and probably it didn't even carry to Dhoni. Now the umpires have asked Curran to wait.
The third umpire has been referred and he has adjudged it not out. So Tum Curran comes back into crease. We saw Dhoni having a long chat with the umpires there. We don't know whether he actually called Curran back or the opposite.
9pm
Parag bites the dust!
8.54pm
Curran gets Tewatia and Parag
Sam Curran gets his man. A rash shot from Rahul Tewatia. He has gone for the review after some consultation with Smith and it's not the most smart one.
8.44pm
Breakthrough for Chawla
Piyush Chawla needed that wicket; after getting battered, the experienced leggie gets the wicket of Robin Uthappa. Good captaincy by Dhoni too for backing him to bowl another over.
8.42pm
2nd Strategic Timeout
14 overs have been bowled, the umpires have signalled for the second stragetic time out. CSK looking to find inroads with RR still well on course to post a target in excess of 200.
8.40pm
That was close!
Sam Curran palms it over the ropes and he would be very disappointed as it goes for a six.
8.35pm
Steve Smith gets to his fifty, Miller run out for duck
Steve Smith got to his fifty but when he tried to go for the second run David Miller was found short of his crease. Is this going to be a turning point? Two quick wickets for CSK now
𝑴𝒚 𝑪𝒂𝒑𝒕𝒂𝒊𝒏 💗

(50)* 35 – Let's turn this into 3 figures Smudge!#RRvCSK | #HallaBol | #IPL2020 | #RoyalsFamily | @stevesmith49 pic.twitter.com/ueTl328mM0

— Rajasthan Royals (@rajasthanroyals) September 22, 2020
8.28pm
Sanju Samson goes for 74 off 32
Ngidi with the breakthrough
8.18pm
100 runs partnership for Smith-Samson
both Sanju Samson and Steve Smith are going after the CSK bowlers. The duo have added over 100 runs for the second wicket and CSK needs to break this partnership. Meanwhile, 19 runs come from Piyush Chawla's second over as Rajasthan add 119/1 after 10 overs. 
A solid 100-run partnership comes up between @IamSanjuSamson & @stevesmith49.

They are going with all guns blazing.#Dream11IPL #RRvCSK pic.twitter.com/IxSbpal8Vb

— IndianPremierLeague (@IPL) September 22, 2020
8.12pm
Piyush Chawla goes for 28
28 runs from Piyush Chawla's over. The last one came from Steve Smith's bat off a free hit. Let that sync in. What hitting by Samson and Smith
8.10pm
50 for Sanju Samson
He reaches his fifty in just 19 balls, with a single four and six sixes. Steve Smith (31*), the captain, joins in on the fun and smashes another six on a free hit. 28 runs off the over! RR: 96/1 (8 overs)
FIFTY!

Sanju Samson on fire! He brings up a quickfire half-century off 19 deliveries 🔥🔥#Dream11IPL #RRvCSK pic.twitter.com/wrmwCUk5B4

— IndianPremierLeague (@IPL) September 22, 2020
8.07pm
Samson is looking absolutely on song; Smith playing anchor while the youngsyer takes on the attack. RR- 68/1 after 7 overs
8.01pm
Samson on fire!
That's a fantastic shot from Sanju Samson. A shortish delivery from Chahar, no venom on it. Samson stands there, just transfer his weight onthe backfoot and uses those lovely wrists of his to flick it.
7.58pm
A very productive over for RR. 14 runs from it. Sanju Samson and Steve Smith have just started to step the foot on the accelerator. END of 5 overs
7.53pm
End of 4 overs
9 runs from the Lungi Ngidi first over – the best one of the RR innings so far. It has been a tidy start by CSK seamers.
7.49pm
Steve Smith pulls out the big guns!
Lungi Ngidi has been greeted with a fantastic pick-up shot from Steve Smith. Some timing there from RR captain. A loosener from Ngidi, on the pads and it's no entry zone to Smith. He flicks it using his wrists and the ball flies over the ropes.
7.46pm
Jaiswal gone cheaply
Deepak Chahar strikes and it is the debutant who has to make a long walk back to the pavilion. It was a short delivery and Jaiswal went for the pull, but gets a thick edge and the ball flies in the air. Both Dhoni and Chahar make a run to grab it but at the end it is Chahar who grabs the ball. RR lose their first man. RR: 11/1 (2.2 overs)
7.41pm
Excellent over Sam Curran
Top stuff from Sam Curran. There wasn't much swing on offer but concedes only 3 runs from the over.
7.37pm
A rather eventless first over from Deepak Chahar comes to an end. Both the RR openers are off the mark. RR-4/0 after 1 over
7.31pm
Aaand we are underway!
Here we go! Deepak Chahar to opne the bowling for SRH while the young Yashasvi Jaiswal takes the strike.
7.16pm
Playing XIs
A look at the Playing XI for #RRvCSK

Follow the game here – https://t.co/Pd3S0NDCdX #Dream11IPL pic.twitter.com/IzMY0S6yqz

— IndianPremierLeague (@IPL) September 22, 2020
7.07pm
RR Playing XI
First of many, for many! 💗

Views on our Playing XI? 👀#RRvCSK | #HallaBol | #Dream11IPL | #IPL2020 pic.twitter.com/u6EbP5jgp1

— Rajasthan Royals (@rajasthanroyals) September 22, 2020
7pm
Toss Results
MS Dhoni wins toss and puts Rajasthan Royals to bat first
#CSK win the toss in Sharjah. Elect to bowl first against @rajasthanroyals. #Dream11IPL #RRvCSK pic.twitter.com/A0HLCTu5rO

— IndianPremierLeague (@IPL) September 22, 2020
6.51pm
The RR skipper is ready for the battle! Few minutes away from the toss!
The @rajasthanroyals Skipper @stevesmith49 in all readiness ahead of their first game in #Dream11IPL.#RRvCSK pic.twitter.com/t41vDYxymZ

— IndianPremierLeague (@IPL) September 22, 2020
6.31pm
THee RR camp is definitely missing the support of their 'Halla bol' fans. The franchise posted a haertwarming video for them. Have a look
SOUND ON | Without you, but for you. 💗#HallaBol from 🏠#Dream11IPL | #RoyalsFamily pic.twitter.com/dO668aIGKa

— Rajasthan Royals (@rajasthanroyals) September 22, 2020
6.23pm
RR's Yashashvi Jaiswal and David Miller engage in some pre-match discussion? What could they be discussing about? See a glimpse
We all know how talented @rajasthanroyals's Yashasvi Jaiswal is and here he is ready for the big stage as he chats with @DavidMillerSA12 ahead of the game against @ChennaiIPL .#Dream11IPL #RRvCSK pic.twitter.com/xaRVUYYdSW

— IndianPremierLeague (@IPL) September 22, 2020
6pm
Exactly one hour to go for the toss!
5.25pm
Aiming for the bull's eye!
CSK speedster Deepak Chahar gets ready to turn on the heat for RR batsmen tonight! Who will win tonight?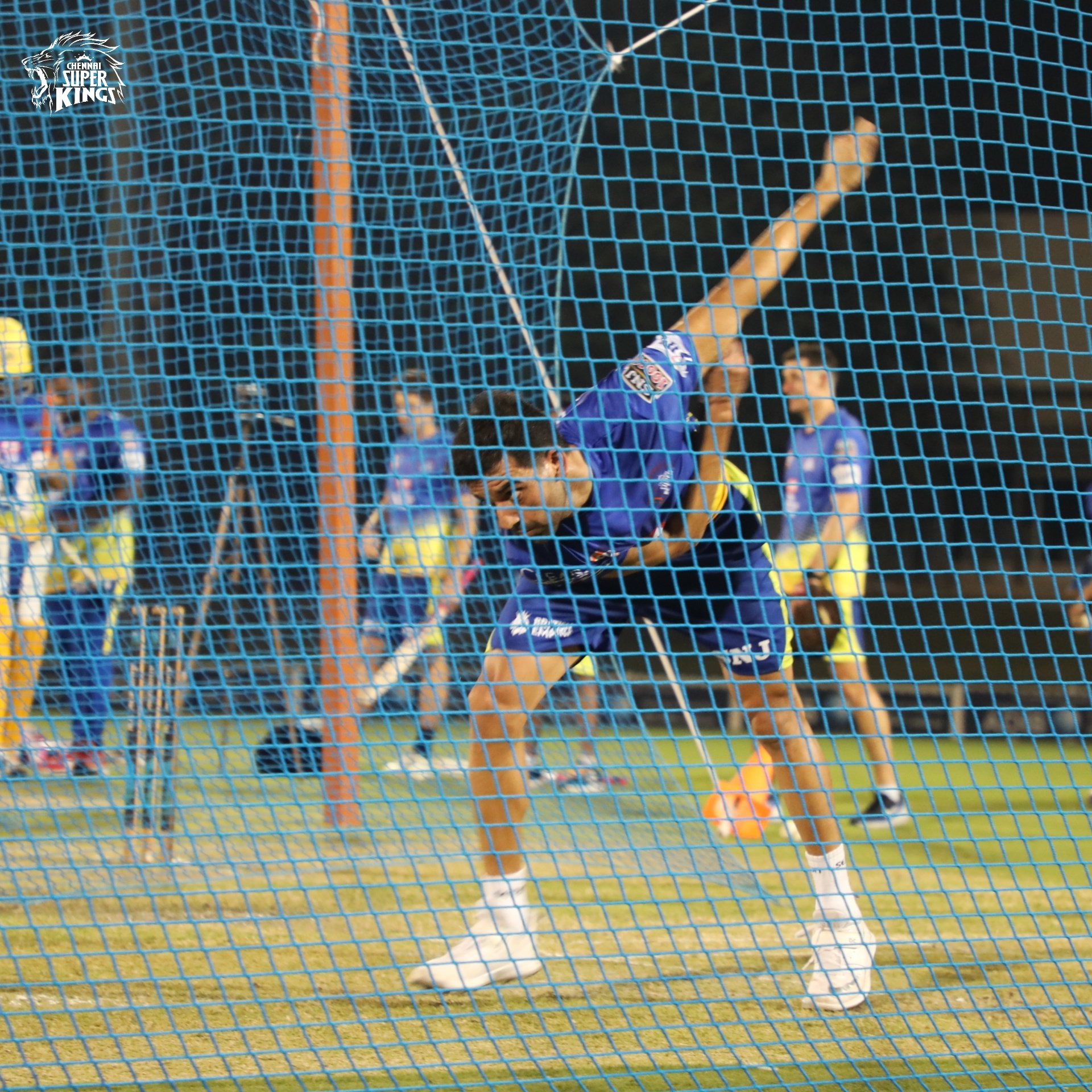 5.05pm
Hear what Trent Boult has to say regarding the UAE pitch
#WATCH: Mumbai Indians pacer Trent Boult says that the humidity in #UAE is helping bowlers to swing the ball during #IPL2020.
Boult said, "I would love to see swinging friendly conditions with a bit of pace in the wicket. Teams are adjusting quicker to these conditions." pic.twitter.com/7vGgut4LqL

— ANI (@ANI) September 22, 2020
4.40pm
CSK Probable XI
Chennai Super Kings Predicted Playing XI: Shane Watson, Murali Vijay, Faf du Plessis, Ambati Rayudu, MS Dhoni (C&WK), Kedar Jadhav, Sam Curran, Ravindra Jadeja, Deepak Chahar, Piyush Chawla and Lungi Ngidi
4.26pm
RR Probable XI
Rajasthan Royals Predicted Playing XI: Robin Uthappa, Yashasvi Jaiswal, Steve Smith (C), Sanju Samson, David Miller, Riyan Parag, Shreyas Gopal, Jofra Archer, Jaydev Unadkat, Mayank Markande/Rahul Tewatia and Tom Curran
3.50pm
Steve Smith back with a bang!
The Aussie looks ready to get some fireworks going for tonight's game against CSK. Check out
That balance. That footwork. That timing. 😍

How we've missed you cap!#RRvCSK | #HallaBol | #RoyalsFamily | #Dream11IPL | @stevesmith49 pic.twitter.com/7pgO7K0cGv

— Rajasthan Royals (@rajasthanroyals) September 22, 2020
3.30pm
RR vs CSK Head to head
Total number of matches played: 22
Matches won by RR: 7
Matches won by CSK: 14
Matched played in India: 19 (RR 8, CSK 11)
Matches played in UAE: 1 (RR 0, CSK 1)
No Result-1
How the majestic meetings turned out so far… 🦁💛 #WhistleFromHome #WhistlePodu #Yellove #RRvCSK pic.twitter.com/1WIYVHqL7r

— Chennai Super Kings (@ChennaiIPL) September 22, 2020
2.40pm
CSK look all set for tonight!
Just some visuals of Thooku Durai having a go at the nets. Fafulous cricgasm at 0:30. 🔥 #WhistleFromHome #WhistlePodu #Yellove #RRvCSK @faf1307 pic.twitter.com/uowcjyDME5

— Chennai Super Kings (@ChennaiIPL) September 22, 2020
2.20pm
Rajasthan Royals announces Steve Smith as captain
Good news for the RR camp as skipper Steve Smith will be a part the first game of the season against Chennai Super Kings after recovering from a concussion. (Read more)
The return of Steve Smith. 💗#RRvCSK | #HallaBol | #RoyalsFamily | #Dream11IPL | @stevesmith49 pic.twitter.com/Od89CQ1UAn

— Rajasthan Royals (@rajasthanroyals) September 22, 2020
2.05pm
Hello peeps! Welcome back to the live coverage of IPL 2020. In today's match we have inaugural IPL 2winners Rajasthan Royals take on Chennai Super Kings.