Jazz vs Clippers Live Game 2 in NBA Conference Semi-Finals: Utah Jazz vs LA Clippers- 11th June NBA Playoffs LIVE stream, watch online, Schedules, Date, India time, Live Link, Scores: Jazz wins 117-111 to take a commanding 2-0 lead in the series
The Utah Jazz won Game 1 against the LA Clippers 112-109. The thin margin showed how tight the game was till the very end.
Donovan Mitchell did not feel like his usual self for an entire half as he struggled with nausea and light-headedness before halftime Tuesday night.
NBA Playoffs to be live-streamed in more than 200 countries. Watch NBA Playoffs Live here.
Match Details: Utah Jazz vs LA Clippers
Time: 07:30 AM IST
Date: 11-06-2021
Venue: Vivint Smart Home Arena, Utah
NBA Playoffs Live Stream: Utah Jazz vs LA Clippers- Match Preview
Utah Jazz
Mitchell scored 45 points and lifted the Jazz to a 112-109 victory over the Los Angeles Clippers in Game 1 of their Western Conference semifinals series.
Mitchell imposed his will offensively after halftime, scoring 32 points to rally the Jazz from a double-digit deficit. Jordan Clarkson and Bojan Bogdanovic chipped in 18 points apiece. Mitchell and Clarkson combined for 12 3-pointers.
The Jazz trailed by as many as 14 points before rallying and overtaking the Clippers in the fourth quarter. Utah took the lead for good on a 21-9 run bookended by 3-pointers from Bogdanovic.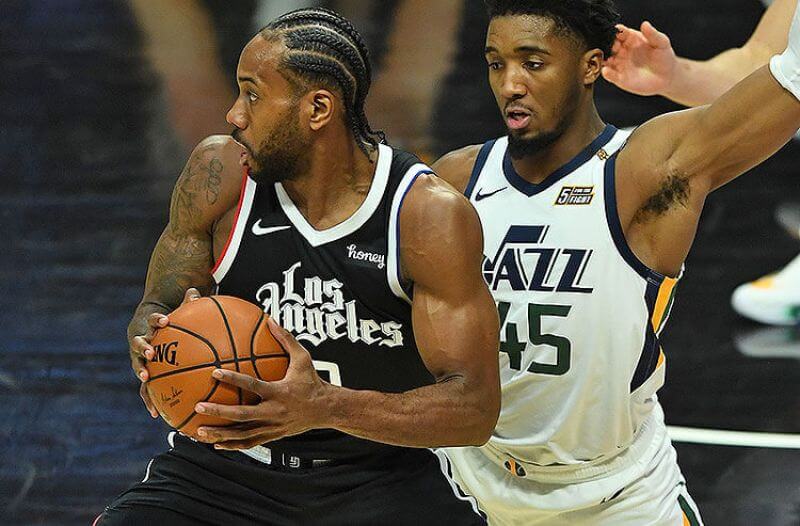 LA Clippers
Kawhi Leonard scored 23 points to lead Los Angeles. Paul George chipped in 20 points and 11 rebounds. Luke Kennard added 18 points while making a team-high four 3-pointers.
Los Angeles capitalized on the lengthy drought with a 22-2 run. Kennard buried three 3-pointers to put the Clippers in front 24-12 late in the quarter.
Serge Ibaka (back spasms) did not play. DeMarcus Cousins made his postseason debut and finished with six points and three rebounds in four minutes.
NBA fans can watch the NBA Scores and games LIVE here.
NBA TV coverage: Jazz vs Clippers Live in NBA Playoffs 2021
NBA games will be broadcasted nationally across ESPN and TNT.
NBA Playoffs 2021 Live stream: Jazz vs Clippers Live stream
Every game will be available live via NBA TV, while the nationally broadcast game will also be available via ESPN digital platforms.
NBA Playoffs Schedule: Find the latest NBA Playoffs Schedule here