Lionel Messi Transfer: Being in the two biggest clubs in Spain, Lionel Messi and Sergio Ramos unquestionably did not see eye to eye during their time on the El Clasico divide. There have been many famous cases of the duo being involved in a fight while Messi tries to dribble past the Spanish defender. For the best part of 15 years, Messi and Ramos enjoyed many incredible clashes during the most glamourous fixture in European football as the two Spanish giants battled it out for LaLiga glory season after season.
However, after years and years of intense clashes, the duo could now link up at Paris Saint-Germain with Messi reportedly close to joining the French giants on a two-year deal worth £70million. Find all the live updates here.
Lionel Messi Transfer: Messi to join Sergio Ramos in PSG?
This transfer window has seen some mind-boggling moves with Sergio Ramos moving to PSG and Real Madrid's other center-half Varane moving to Manchester United.
While the Messi-Ronaldo same league rivalry ended when Ronaldo moved to Juventus, the Messi-Ramos contest came to an end earlier this summer when former Real Madrid captain and center-back Ramos completed a free transfer to PSG to bring his glorious 16-year spell to a close.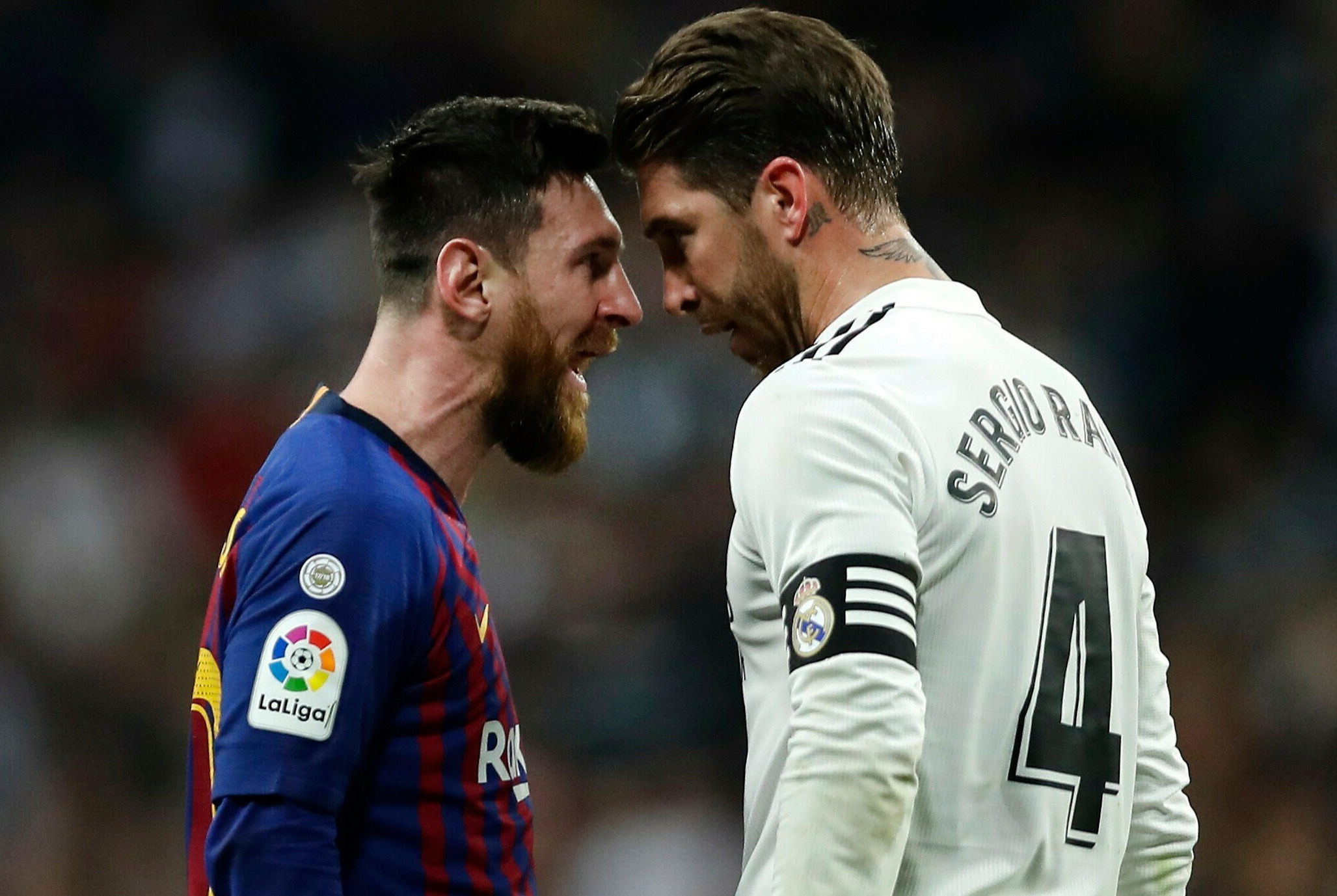 Ramos, on many occurrences, has encountered Messi's magic during the El Clasico and it's fair to say that the Spanish great was unable to keep up with the Argentine's quick footwork and skills.
#Messi Vs @SergioRamos 😎
El mejor Delantero del mundo!
El mejor Central del Mundo!
Ahora jugarán juntos! 😱 Cuántas caricias recibió Messi? 😂
También el Capitán del Olimpia Roque Santa Cruz, recibió caricias de Ramos' 😂
Grande @PSG_inside 👏👏 pic.twitter.com/ZmbD0mfBa0

— Rita🤍🖤🤍⭐⭐⭐⭐ (@RITA24313983) August 7, 2021
Lionel Messi Transfer: Sergio Ramos was sent off twice for a tackle on Messi
The first time was when Barcelona crushed their arch-rivals Madrid at the Nou Camp 5-0 in November 2010. In the final few minutes, Messi rattled Ramos with his close control and amazing dribbling to get away from Ramos.
But, Ramos needlessly hacked the Argentine down – leading to him getting the red card in the 93rd minute.
Again, in April of 2017, Ramos was shown another straight red for a two-footed lunge on Messi who was looking to break on the counter with Barcelona defending a 2-1 advantage at the Bernabeu.