Premier League champions Manchester City have also emerged the table toppers in the most valuable clubs' chart, relegating Manchester United to the second position in a study published by the University of Liverpool's Centre for Sports Business.
Manchester City have been valued at £2.364 billion ($3.082 billion), which is £275 million ($358.5 million) more than their city rivals Manchester United.
The Reds, who had topped the table in 2017/18, have fallen to the second spot even as they managed to break the £ 2 billion barrier with a £90 million ($ 117.3 million) gain over the valuation that had made them the league leaders last year. Manchester United at valued at £ 2.087 billion ($ 2.72 billion).
Tottenham are placed third in the value table after the additional revenue gained from playing at Wembley and a streamlined wage structure.
Both Manchester clubs, Arsenal, Chelsea, Liverpool and Spurs all are valued at over £1 billion ($1.3 billion). But the Burnley in the seventh position have a value of only £398 million ($518.8 million).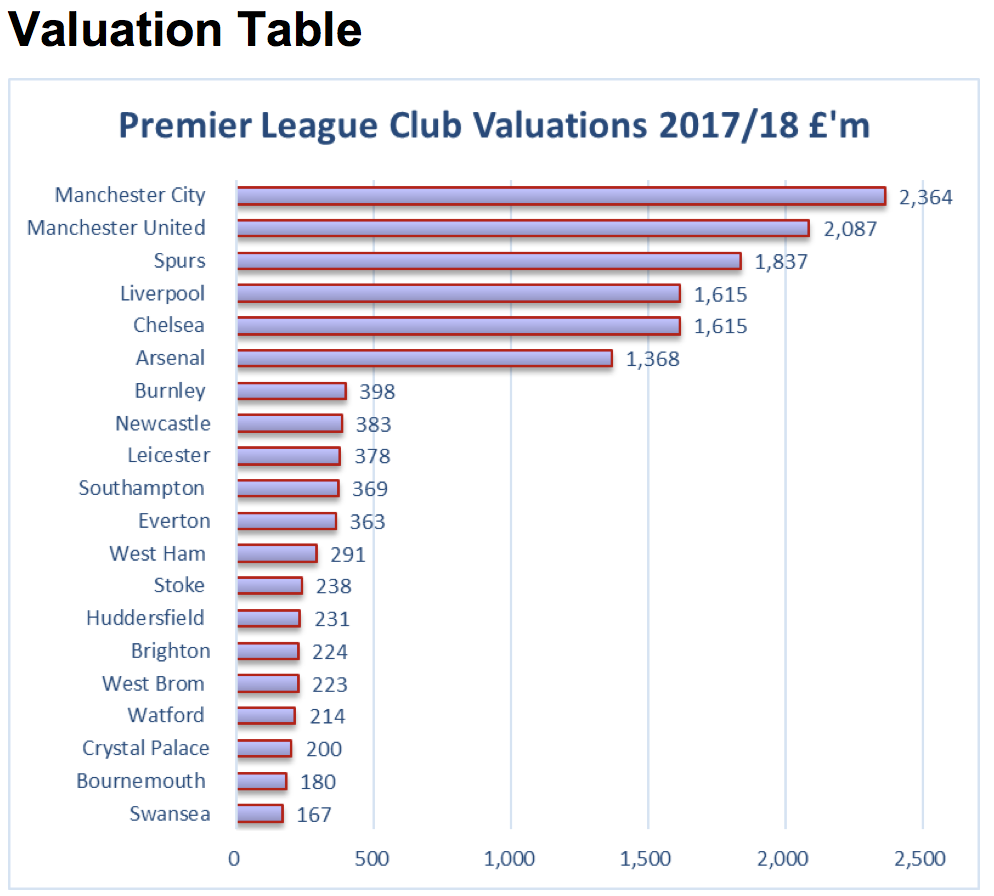 Source: University of Liverpool's Centre for Sports Business
The overall value of Premier League clubs fell by 1.6% to £14.7 billion ($19.1 billion), with the 'Top Six' making up 74% of this total.
"(The Top Six's) dominance of revenue streams is likely to ensure that the gap between themselves and the remaining clubs in the Premier League is maintained," say the report authors.
"The gap between the bottom club in the 'Big Six' and the next highest valuation is now nearly £1 billion."
The valuations have been made using the Markham Multivariate Model created by Dr Tom Markham, a senior executive for Sports Interactive, creators of Football Manager.
The figures are taken from the financial statements sent to Companies House.
The report highlights smaller falls in the value of some mid-tier clubs due to weaker cost control in a season where revenue in the Premier League increased by £253 million wages rose by £356 million.
Also Read: Saudi Crown Prince keen on Manchester United takeover : Report
'Manchester United-Vodafone in talks to make Old Trafford 5G-ready'
Manchester City earns record profit, but City Football Group still in loss
Manchester City extends global partnership with recruitment firm Hays
Premier League: Top six clubs to get $ 97 mn in new media rights…