NBA 2020-21: James Harden wants to be traded from the Rockets to a contender. Houston does not appear to be in a rush to trade Harden, but how would the one-time MVP transform a team's offense?
James Harden indicated to the Houston Rockets before the beginning of training camp that he would be open to a trade to the Philadelphia 76ers or possibly other contenders, according to Adrian Wojnarowski.
NBA 2020-21: NBA LIVE stream: Miami Heat vs New Orleans Pelicans
He has added 4 more teams he would prefer a trade to, according to Shams Charania.
Sources: James Harden now has the Milwaukee Bucks and Miami Heat among his preferred trade destinations, along with the Philadelphia 76ers and Brooklyn Nets.

More on Inside Pass at @TheAthleticNBA: https://t.co/Cp1Irm2VZN

— Shams Charania (@ShamsCharania) December 10, 2020
Will the Houston Rockets trade James Harden?
Here's what we do know: Harden wants to "be on a contender elsewhere," according to reports, with the Brooklyn Nets, Philadelphia 76ers, Milwaukee Bucks, and Miami Heat being among his preferred destinations.
In return, the Rockets are said to be looking for a package that includes a "young franchise cornerstone," "a bundle of first-round picks" and/or "talented players on rookie contracts."
NBA 2020-21: NBA Live stream: LA Lakers LA Clippers in NBA live preseason
That's obviously a lot to give up for one player, but Harden isn't any ordinary player. He's a perennial MVP candidate in his early 30s who has proven to be durable and is under team control for at least two more seasons.
It doesn't appear as though the Rockets are being inundated with offers for Harden right now, but it's hard to believe they won't get a massive return if he is traded.
NBA preseason 2020-21: Comparing LaMello Ball and Lonzo Ball's debut in the NBA, who performed better?
Even though the Rockets are reportedly in no rush to trade Harden, let's imagine he is traded somewhere soon, whether it is Brooklyn, Philadelphia, Milwaukee, or Miami. What would his addition mean for a team's offense?
Let's take a closer look at the player he's developed into, both the good and the bad, as well as the unknown.
NBA 2020-21 regular season: Find the latest NBA 2020-21 Schedule here
All the teams were issued a 134-page "Health and Safety Protocol Guide" for the 2020-2021 season this morning, per sources. Now, the NBA tries this outside of a bubble.
While the NBA will take all the precautions and ensure that health and safety protocols are followed, it does not guarantee to prevent Covid-19.
NBA preseason Schedule: Check out the NBA preseason schedule here.
NBA 2020-21 TV coverage: NBA live broadcast 2020-21
NBA games will be broadcasted nationally across ESPN and TNT.
NBA fans can stream the NBA games LIVE here.
NBA 2020-21 Live streaming
Every game will be available live via NBA TV, while the nationally broadcast game will also be available via ESPN's digital platforms.
NBA LIVE stream: Bucks vs Mavericks in NBA preseason
NBA 2020-21: The most prolific isolation scorer … ever?
There's no other place to start.
The NBA's play type data only goes back to 2015-16, but it's safe to assume that few players – if any – have ever reached the levels Harden has as a one-on-one scorer.
Last season, Harden averaged 15.8 points per game in isolation, representing close to half (45.0 percent) of his offense. That led the league by a massive margin. The player closest to Harden was Russell Westbrook, only he averaged 6.4 points per game in isolation.
Put it this way: Harden scored a total of 1,075 points in isolation last season. That was more than every other team in the league.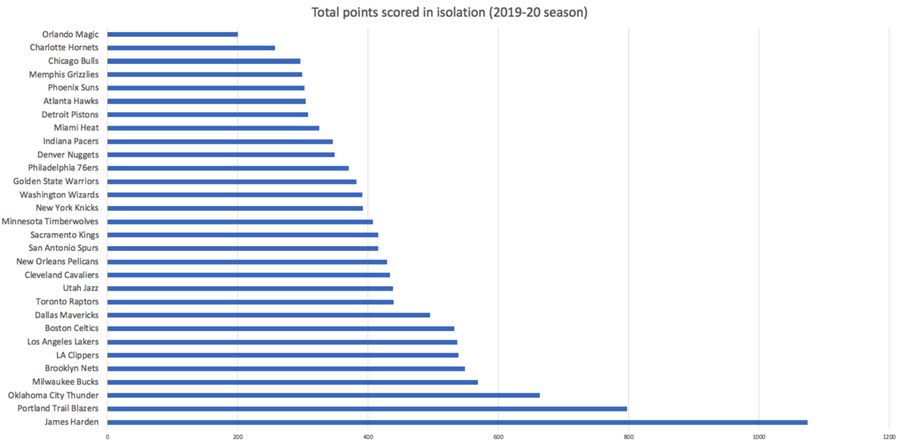 NBA 2020-21: According to NBA.com, Harden ranked in the 92nd percentile with an average of 1.12 points per isolation possession. The only notable player ahead of him in the efficiency department was DeMar DeRozan, who scored a fifth of the number of points (221) as Harden did in isolation.
So not only does Harden score more in isolation than every player in the league, he's basically the most efficient.
The secret to Harden's success, of course, is his step back. It's one of the greatest weapons in league history. Not only is he comfortable shooting from deep, but he also has the size (6-foot-5) and length (6-foot-11 wingspan) to shoot over most defenders.
NBA 2020-21: Find the detailed information on the new contracts signed by the NBA players here.
If teams press upon him to take away his step-back 3, Harden is perfectly capable of finishing around the basket.
According to Cleaning The Glass, he made 68.3 percent of his shot attempts at the rim last season, ranking him in the 78th percentile for his position.
NBA 2020-21: NBA Live stream: Brooklyn Nets vs Washington Wizards in NBA preseason
Harden has also added a floater to his game in recent years. He made 40.5 percent of his shot attempts from floater range last season, ranking him in the 58th percentile for his position.
The only thing Harden doesn't have is a midrange game – he attempted a total of 20 shots from midrange last season – but that's more by choice than ability. There's a case to be made that Harden would benefit from being a more willing midrange shooter because it would make him a less predictable isolation scorer in the playoffs, so it'll be interesting to see if that's a part of his game that a new coach tries to unlock, whether it's in Houston under Stephen Silas or somewhere else.
.@JHarden13 on this day in 2018 and 2019 👀

2018 vs Lakers:

– 50 PTS 🔥
– 11 ASTS 🔥
– 10 REBS 🔥
– Triple-Double 🔥
– W

2019 vs Magic:

– 54 PTS 🔥
– 19/31 FGM 🔥
– 10/15 3PM 🔥
– W

🐐🐐🐐🐐 pic.twitter.com/BmSIppRv8C

— FreeDawkins.com (@DawkinsMTA) December 13, 2020
NBA 2020-21: NBA preseason: Key takeaways from the opening night 
Being such a dominant isolation scorer, Harden is basically an offense unto himself. He can create his shot against anyone and draws so much attention that it makes the lives of his teammates rather simple.
If teams don't provide help, he's going to create a good look for himself. If they do, he's going to kick it out to someone for a high percentage shot, whether it's from the perimeter or around the basket.
For all of the attention Harden gets for his scoring ability, he's developed into one of the league's best facilitators. According to PBP Stats, only LeBron James (329), Trae Young (322), and Ricky Rubio (299) assisted on more field goals at the rim than Harden (271) last season. Additionally, only Luka Doncic (244), LeBron James (234), Ben Simmons (226), Russell Westbrook (212), DeMar DeRozan (212), and Damian Lillard (206) assisted on more 3-pointers than Harden (202) last season.
NBA Trade Rumors: Miami Heat show interest in James Harden, Tyler Herro expected to be a part of the deal
Surround Harden with three shooters and a lob threat and you have the makings of an elite offense.
NBA 2020-21: NBA LIVE stream: Miami Heat vs New Orleans Pelicans
NBA 2020-21 Schedule: The tentative NBA schedule calendar for the 2020-21 season:
 • Dec. 11-19, 2020: Preseason games
 • Dec. 22, 2020 – March 4, 2021: First Half of regular season
 • March 5-10, 2021: All-Star break
 • March 11 – May 16, 2021: Second Half of regular season
 • May 18-21, 2021: Play-In Tournament
 • May 22 – July 22, 2021: 2021 NBA Playoffs