Premier League: Son scores to keep Tottenham's winning streak alive, Spurs move to the top of the table, Spurs 1-0 Watford – Tottenham Hotspur has continued their impressive form under the new boss in Nuno Espirito Santo. They have won all their games this season and maintained three straight clean sheets. The London outfit will head into the international break with a perfect record which sees them top the Premier League table with Son's free-kick being the differentiating both the teams on Sunday.
The goal came in the 42nd minute after Son swung in a free kick from the left wing and Watford goalkeeper Daniel Bachmann got it all wrong, with the ball going all the way into the far corner.
They are the last remaining team in Premier League to maintain a perfect start after Son Heung-min clinched a 1-0 victory over Watford on Sunday. It was a third successive win at the start of Nuno Espirito Santo's first season in charge of the north London club.
Tottenham has nine points, two more than any other team heading into the international break. Watford has only three points from three games after regaining promotion to the Premier League.
– Follow all Premier League & Spurs vs Watford Live Updates on InsideSport.co & LIVE Streaming on Disney+ Hotstar
Premier League live: Spurs vs Watford live updates
@8: 23 PM: FULLTIME!!! Tottenham makes it three out of three. The hosts have managed to keep yet another clean sheet as Son's Free kick sees the London outfit move on the top of the table
@8: 21 PM: 90+2 mins' – Corner for Spurs, They take it short looking to get their second goal of the game and bag three points
@8: 19 PM: 90 mins'- 4 minutes added to the match before the full-time whistle
@8: 16 PM: 87 mins'- Son walks off to a standing ovation and is replaced by Bryan Gil  who makes his Premier League debut
@8: 14 PM: 85 mins' Kane!! The Spurs skipper couldn't provide the finishing touch. Moura does well bursting from the right-hand side and pushing the ball to the box. On the other end, Saar does well to get fouled by Skipp. Yet another yellow for Tottenham player.
@8: 10 PM: 81 mins' Sanchez does well to stop Cucho after Alli fouls Sarr. Watford gets a corner. Wasted opportunity
@8: 07 PM: 78 mins' Finally some possession for the visitors. However, Spurs have been defensively compact as a unit. Delli Alli does the dirty work and concedes a throw-in.
@8: 03 PM: 74 mins'- Watford has not been able to attack Spurs half for quite some time. The visitors are finding it difficult to retain the ball and equalize
 @7: 58 PM: 69 mins'- Spurs edge closer to making it three wins in a row. The hosts are in the driver's seat with complete control over the situation. Meanwhile Cleverly comes on for Sissoko
@7: 55 PM: 66 mins'- Watford makes the change. Cucho comes off the bench for King
@7: 52 PM: 63 mins'- Dennis wins the corner for Watford. Masina drills it as Dele Alli clears the ball.
@7: 49 PM: 60 mins'- Foul by Alli. The English international gets a yellow card for his challenge on Sarr.
Premier League live: Spurs vs Watford live updates
@7: 46 PM: 57 mins'- Corner for Tottenham. Sanchez fails to control the ball and hits it over the net.
@7: 44 PM: 55 mins'- Good few minutes for Watford. The visitors are looking to put some pressure back on Spurs. The game has opened up a bit in the second half
@7: 42 PM: 53 mins'- Kuko skies the ball high. Poor connection by the Watford star. Goalkeeper for Tottenham.
@7: 39 PM: 50 mins'- Play has been stopped for Cathcart who receives treatment on the pitch. The defender has passed on the armband and is subbed off. Ngakia comes on for the Hornets
@7: 36 PM: 47 mins' Son passes to Alli as Cathcart clears away the danger. Good start to the half by the hosts
@7: 34 PM: Start of the SECOND HALF! 
@7: 25 PM:  The Differentiator in the first half
There's that smile 😁 pic.twitter.com/j4aPqDppCy

— Tottenham Hotspur (@SpursOfficial) August 29, 2021
@7: 16 PM: 46 mins'- HALFTIME!! Son's strike separates both the teams as they head back into the tunnel. Spurs 1-0 Watford
@7: 15 PM: 45 mins'- Harry Kane gets a yellow card for a poor foul on Sarr. One minute added.
@7: 12 PM: 42 mins'- GOALLLL!!! Son marks his 200th game in the Premier League with style. The South Korean steps up for the Spurs free and bends the ball with pace into the far corner
@7: 10 PM: 40 mins'- Tottenham continues to flood the Watford box. However, the visitors are able to recover well. No harm done
@7: 05 PM: 35 mins'- Kane to Alli. No power in the shot. Easy catch for Bachmann
@7: 03 PM: 33 mins'-  A poor clearance by Watford keeper as  Son misses the target by a whisker
Premier League live: Spurs vs Watford live updates
@7: 01 PM: 31 mins' Tanganga tried to cross the ball from the right, Gets a corner instead
@6:59 PM: 29 mins'- Etebo gets a yellow card for a poor challenge on Harry Kane. Free-kick for Tottenham
@6:57 PM: 27 mins'- Watford looking to control the tempo of the game by keeping hold of the ball patiently aiming to break into the Spurs half
@6:53 PM: 23 mins'- The Hornets have a free kick in a dangerous area. Dennis hits the ball way too far from the post. Easy for Lloris
Premier League live: Spurs vs Watford live updates
@6:50 PM: 20 mins'- Patient buildup by Spurs. The hosts look for spaces in the Watford box and get themselves a corner.  Masina lobs the ball high defending the corner well
@6:47 PM: 17 mins' – Watchful defending by Masina stopping a potential move created by Alli and Kane
@6:45 PM: 15 mins'-Sarr whips the ball in, as it falls straight into the arms of Hugo Lloris
@6:42 PM: 12 mins'- Good moves by Spurs. They get into the wide positions and claim the first corner of the game. Son's corner kick is defended well by King.
@6:40 PM: 10 mins'- The visitors have looked comfortable against the hosts resisting Spurs pressing with great ease
@6:38 PM: 8 mins'- Watford continues to pass the ball along in their own half looking to open up spaces in Spurs half. Sarr runs into the box taking on Reguilion whipping the  ball in  looking for runners
Premier League live: Spurs vs Watford live updates
@6:33 PM: 3 mins' Spurs have started the game well. Son looks to attack from the right and gets his team a throw-in in the opponents half
@6:30 PM: KICKOFF! Watford gets the ball rolling in London attacking from left to right.
@6:25 PM: The hosts are excited with the return of Harry Kane to the starting 11. The English international will be making his first Premier League start of the season.
Getting match 𝗿𝗲𝗮𝗱𝘆 👊

🛵 @getir_UK pic.twitter.com/5qzmpGP4DN

— Tottenham Hotspur (@SpursOfficial) August 29, 2021
@6:20 PM: Son Heung-min enjoys his time against Watford. The South Korean has five goals in nine Premier League appearances against the Newly promoted team. He has only scored more against Southampton (nine).
Premier League live: Spurs vs Watford live updates
@6:10 PM: Watford have been defeated in nine of their last 10 visits at Spurs after winning their first three away league matches between 1982 and 1985
@6:05 PM: Spurs head coach Nuno Espirito Santo could become the first manager of the London outfit to win his first three top-flight matches.

@5:55 PM: The visitors have a poor record in the Premier League having lost the last seven of their away matches. They have also failed to score in five of those seven gaems and will have to pull out something extraordinary against Spurs.
@5:45 PM: Here is the complete list of the Match officials for this clash
Referee: Andre Marriner. Assistants: Eddie Smart, Simon Long VAR: Jarred Gillett. Assistant VAR: James Mainwaring. Fourth official: Graham Scott.
@5:35 PM: Lineups have been announced!
Spurs– Lloris, Sanchez, Dier, Tanganga, Reguilion, Skipp, Jojberg Alli, Bergwijn, Son, Kane
Watford– Bachmann, Masina, Troost-Ekong, Sierralta, Cathcart, Etebo, Sissoko, Sarr, Dennis, Kucka, King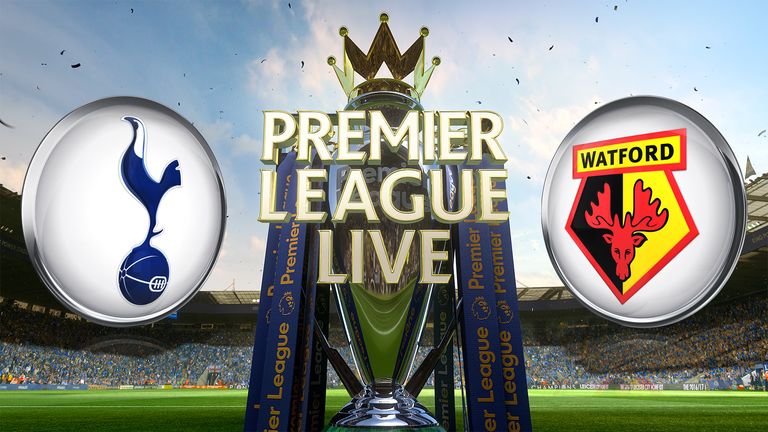 Premier League Live: Tottenham vs Watford live stream, preview, predicted lineups, time, schedule, all you need to know
When and where to watch Tottenham vs Watford
When is Tottenham vs Watford going to be played?
Tottenham vs Watford will be played on 29th August, 6:30 PM
Also Read: Premier League Table 2021/22: Check out the latest Premier League Points Table 2021-22
Premier League live: Where is Tottenham vs Watford going to be played?
Tottenham vs Watford will be played at the Tottenham Hotspur Stadium
Where can I watch Tottenham vs Watford?
Fans can watch Tottenham vs Watford on Star Sports, Hotstar
Premier League 2021-22 LIVE: When, where, and how to watch the new season 2021/22 live in your country, India
Which TV channel will broadcast the Premier League Matches?
The Matches will be telecasted on Star Sports Network in India. Fans can enjoy live Premier League action on any of the Star Sports Select 1, Star Sports Select 1 HD, Star Sports Select 2, Star Sports Select 2 HD, and Star Sports 3.
Premier League 2021-22 LIVE Stream: Where can you live stream the Matches?
The Premier League Matches on Sunday will be available for streaming on Disney+ Hotstar and Jio TV. Fans will need to purchase a premium Disney+Hotstar account to live stream all the matches.
Premier League Live: Tottenham vs Watford live stream, preview, predicted lineups, time, schedule, all you need to know