Suns vs Bucks Game 1 in NBA Finals Scores: Suns win 118-105, Paul, Ayton make history to take a 1-0 lead in the series
Ayton has become the first player to score 15+ points and record 15+ rebounds in their Finals debut since Tim Duncan did it in 1999.
Chris Paul has joined Tim Duncan and Kareem Abdul-Jabbar as the only players aged 36 or higher to score 30+ points in an NBA Finals game. Impressive company for CP3 to keep following his Finals debut.
The Phoenix Suns have beaten the Milwaukee Bucks 118-105 in Game 1 of the NBA Finals. A massive game for Ayton, Booker, and Paul who scored 91 points combined.
Game 2 is in Phoenix as well.
Suns vs Bucks Live Game 1 Quarter 4
Bucks foul Deandre Ayton with less than a second left on the shot clock to not only waste what had been a strong defensive possession but also put the Suns back on the line with a 12-point lead and just under two min remaining.
more sauce pic.twitter.com/8peUTpoMfe

— Phoenix Suns (@Suns) July 7, 2021
Cam Johnson continues his scorching hot postseason shooting with the mid-range jumper to push the lead back up to 12.
Chris Paul hits another mid-range jumper, and with only six minutes remaining, that might've been the dagger.
Holiday is going to the line now. This will be Milwaukee's seventh and eighth free-throw attempts of the game. Phoenix has 23.
Giannis stripes Crowder and Middleton steals two points there.
This small-ball look is a chance for the Bucks to go to the basket more after relying on the 3 in the third quarter, but Middleton misses a 3 in his first look against it.
Khris put up 10 points in the third. pic.twitter.com/WyLS980Hr0

— Milwaukee Bucks (@Bucks) July 7, 2021
Suns vs Bucks Live Game 1 Quarter 3
Crowder strips it off of Middleton's leg. The Bucks just can't string together multiple good possessions in a row. They're getting desperate out there.
It's the handles for us pic.twitter.com/5ZHVzREBAM

— Phoenix Suns (@Suns) July 7, 2021
No Buck boxes out. Ayton gets the easy offensive rebound and dunk.
Holiday misses yet another shot. Lopez gets the board and gets fouled, but the Bucks just cannot endure another 2-of-9 night from Holiday. He's their third max player and he doesn't remotely look like it.
Suns push the lead to 13 after that turnover by Holiday. Timeout Bucks. This thing is slipping away from them.
Paul again! And the foul! He can push the lead up to 11 at the line here.
Giannis for 3. That's his first of the game.
Suns vs Bucks Live Game 1 Quarter 2
The Bucks miss ANOTHER putback opportunity and then fail to secure a gettable loose ball. They're leaving so many points on the table here.
Paul makes another jumper over Lopez. The Suns are trying so hard to get Lopez off of the floor with this switch-hunting.
Giannis misses his first 3-point attempt of the night, but Phoenix blows its transition opportunity with an offensive foul on the other end. Smart play by Khris Middleton there.
That's money. pic.twitter.com/mfAlM8deYB

— Milwaukee Bucks (@Bucks) July 7, 2021
PJ Tucker is livid at that foul call. He may have a point. Khris Middleton was seemingly hit on his layup attempt on the other end, but the Suns have gotten a much friendlier whistle thus far.
😈😈 @DeandreAyton https://t.co/pasU19phgI pic.twitter.com/4lgh2T9CXo

— Phoenix Suns (@Suns) July 7, 2021
PJ Tucker is so, so good at fronting the post. He just came away with the steal on Paul's lazy pass and this game is tied as a result.
Middleton lobs to Lopez. Over and over and over again the Bucks are going at Frank Kaminsky. The Suns are doing the same to Brook Lopez.
Booker banks it in. The Suns lead by seven, 45-38, after he goes at Lopez off of the switch. The Suns have found their stroke in the mid-range.
The Bucks are attacking the basket relentlessly with Kaminsky in the game. They don't respect him one bit. Chris Paul is just taking those points back in the mid-range for Phoenix.
Dario Saric is getting his right knee evaluated, according to the broadcast. It is unclear if he will be able to return.
The Bucks just cannot finish on their offensive rebounds. They'd have the lead right now if they could just make their putbacks.
P.J. connects from the corner.

What else is new? pic.twitter.com/Td7e7icsrl

— Milwaukee Bucks (@Bucks) July 7, 2021
Middleton needed that jumper. He's had a slow start thus far, but remember, he did in Game 6 against the Hawks as well before he caught fire in the second half.
The Suns are sticking with Ayton instead of going with Frank Kaminsky. This is going to be a real test of Ayton's endurance if the Suns are afraid of taking him out of the game.
The two offenses are a combined 4-of-14 from 3 thus far. This game has largely been played near the basket thus far. That's going to change to some extent.
As Jeff Van Gundy says, Torrey Craig is an interesting matchup on Giannis because of his strength. He just added some value on offense as well with that tip in. The Bucks can't score with 1.9 seconds left, and the Suns lead Game 1 30-26 after a quarter.
Suns vs Bucks Live Game 1 Quarter 1
Giannis with his first DUNK of the #NBAFinals!! pic.twitter.com/DoV7dtruOi

— Milwaukee Bucks (@Bucks) July 7, 2021
Book things 💥 pic.twitter.com/8n0tRR40VJ

— Phoenix Suns (@Suns) July 7, 2021
More Jeff Teague minutes. Those have been questionable all postseason for the Bucks, but he made three 3's in Game 6 against Atlanta.
Saric is going to get looked at. Ayton is returning to the game. He can't play the whole night, though, so it looks like Phoenix has to rely on Frank Kaminsky.
🥵 https://t.co/XX2IuzZg3d pic.twitter.com/LaIx7KuNhH

— Phoenix Suns (@Suns) July 7, 2021
The Bucks take another time out as they lead by 4.
One of the frustrating things about defending the Suns is how differently Cameron Payne plays than Chris Paul. His speed makes it harder for certain defenders to guard him, and P.J. Tucker is one of them.
Phoenix is immediately taking advantage of Milwaukee's pick-and-roll defense. Lopez isn't dropping to the basket, so when he's out on the perimeter, they're finding Ayton inside against mismatches. Without Giannis in the game, there's no weakside help there.
Lopez for 3. Bucks back on top.
Giannis is on the bench. Keep an eye on how the Bucks handle his minutes. He'll likely play most of the game, but his rest patterns might be different depending on what the medical staff suggests with his knee.
The Bucks could not get the basket to fall in 3 tries, on the other end, CP3's flashy assist and a dunk for Mikal Bridges.
Chris Paul misses the 3, but it didn't matter. He was out of bounds. Bucks ball with a 12-10 lead as we go into our first timeout.
Giannis just blocked Booker into oblivion, but he hit the rim. Goaltending. Still, he's proving his physical presence here early on.
Khris connects from midrange for his first bucket in the #NBAFinals. pic.twitter.com/2SzEjnuBVP

— Milwaukee Bucks (@Bucks) July 7, 2021
Ayton hits the jump hook over Tucker to give Phoenix its first lead of the night, but Lopez gets a quick transition layup in response. It's 9-8 Bucks.
Giannis doing what he does best. pic.twitter.com/rz6NpIBBXL

— Milwaukee Bucks (@Bucks) July 7, 2021
Bridges finishes the lob despite Jrue Holiday deflecting the pass. That makes it 7-6 in favor of the Bucks. Neither offense looks very sharp thus far.
Watch Brook Lopez on defense tonight. On that first pick-and-roll, he attacked Chris Paul right off the screen. They're playing him higher up to take away those mid-range jumpers. It worked against Trae Young.
Brook in the paint early. pic.twitter.com/uVOugO87lo

— Milwaukee Bucks (@Bucks) July 7, 2021
The Phoenix crowd is very vocal. It is almost impossible to hear the ref's whistle. The game has been stopped 5 times in the first 3 minutes.
Giannis on the free-throw line and the whole crowd starts their countdown. He makes 1/2.
DeAndre Ayton gets the opening matchup on Giannis, who is fouled on the pass from Middleton. However, in a major relief for Bucks fans, Giannis just caught a lob pass and dunked on his first possession of the game. That's a good sign for his physical condition.
Jumpball was taken but the ref was not satisfied. They retake it and the Bucks tip us off.
Suns vs Bucks Live Game 1 Pre-Game Updates and Starting 5
THE FIVE. pic.twitter.com/kl6CRj3ngc

— Phoenix Suns (@Suns) July 7, 2021
#NBAFinals Game 1 Starters: pic.twitter.com/son5Ki5nqL

— Milwaukee Bucks (@Bucks) July 7, 2021
"I've never been to an #NBAFinals game in 35 NBA seasons, this is WONDERFUL!"@Paschketball and @ZoraStephenson ahead of Game 1: pic.twitter.com/CK5ULf06pN

— Milwaukee Bucks (@Bucks) July 7, 2021
𝐍𝐁𝐀 𝐅𝐈𝐍𝐀𝐋𝐒. 𝐆𝐀𝐌𝐄 𝟏. pic.twitter.com/lOfaCqNkmi

— Phoenix Suns (@Suns) July 7, 2021
GIANNIS ANTETOKOUNMPO IS BACK
Milwaukee Bucks star Giannis Antetokounmpo (knee) will play tonight in Game 1 of The Finals against the Phoenix Suns, league sources tell @YahooSports.

— Chris Haynes (@ChrisBHaynes) July 7, 2021
These two squads met twice in the regular season, and it was the Suns who won both meetings by just one point and the other game after a controversial ref call.
Unfortunately, there's a big injury cloud hanging over Antetokounmpo who does so much for the Bucks on both ends of the floor, but both Middleton and Holiday look to be heating up at just the right time.
NBA Playoffs to be live-streamed in more than 200 countries. Watch NBA Playoffs Live here.
Suns vs Bucks Live Game 1
Match Details: Phoenix Suns vs Milwaukee Bucks
Time: 06:30 AM IST
Date: 07-07-2021
Venue: Talking Stick Resort Arena, Phoenix
NBA Playoffs Live Stream: Phoenix Suns vs Milwaukee Bucks- Match Preview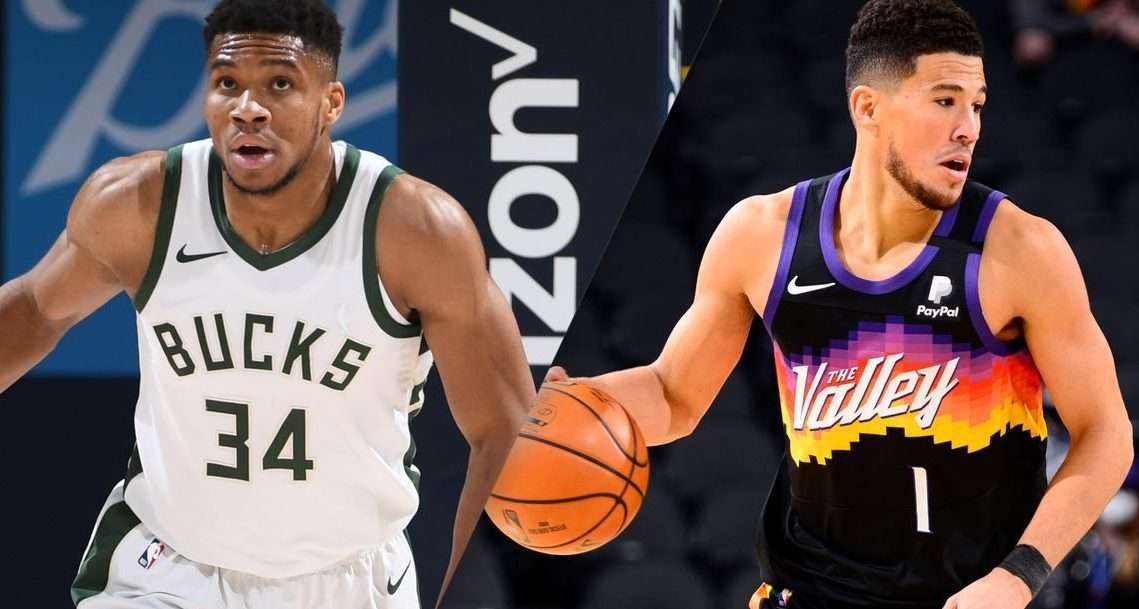 NBA TV coverage: Suns vs Bucks Live in NBA Playoffs 2021
NBA games will be broadcasted nationally across ESPN and TNT.
NBA Finals Playoffs 2021 Live stream: Suns vs Bucks Live stream
Every game will be available live via NBA TV, while the nationally broadcast game will also be available via ESPN digital platforms.
NBA Playoffs Schedule: Find the latest NBA Playoffs Schedule