Suns vs Lakers Game 2 Highlights NBA Playoffs Scores: Lakers win 109-102, Tie the Round 1 Series Against Phoenix
The Lakers came back to tie the series 1-1 against the Suns. They will now play at Staples Center in Game 3.
After a poor Game 1, Anthony Davis came back strong. He had 34 points, 7 assists, and 10 rebounds in a huge game that was live till the last second.
The Lakers shot 45% from the field. Chris Paul had a night to forget as he only managed to score 6 points. Deandre Ayton grabbed a double-double and Booker scored 31 points.
Suns vs Lakers Live Quarter 4
The Suns really won't say die. They fouled Davis with 5.6 seconds remaining down five.
https://twitter.com/i/status/1397411961076256768
More free throws for Booker as the Lakers struggle to end this thing. They're up eight with under eight seconds to go, but the Suns are extending the game.
12 straight points down the stretch for LeBron+AD. They've each hit a 3 here in the final 2:15, and LAL's lead is 103-96 with 41.1 to play.
PHX has to foul.
Again, effortless.

(📺: @SpectrumSN & TNT) pic.twitter.com/GORsNlIKNs

— Los Angeles Lakers (@Lakers) May 26, 2021
LeBron calls game! That 3 puts them up to nine with under a minute to go. Checkmate.
Booker's going to the line. He has a chance to get his first points on the quarter, but with 1:08 left, is there enough time for the Suns to mount a real challenge?
Lakers are running away with this one. Devin Booker has not been able to score in the 4th quarter.
The Lakers overpassed there, and it cost them. That's a 24-second violation because Gasol made that last pass.
The Lakers overpassed there, and it cost them. That's a 24-second violation because Gasol made that last pass.
Gasol getting attacked in space again. Payne pushes the lead back down to one.
Phoenix takes the lead! 90-89
Cameron Payne played eight NBA games last season — all in the bubble for Phoenix. Now he's going crazy in a playoff game against LeBron James and Anthony Davis with the Suns having a compromised Chris Paul.
Payne for the tie! It's 86 apiece as the Lakers are melting down before our eyes.
Role players that usually come through for LAL are struggling tonight.
KCP, Kuzma, Caruso, THT, and Matthews are a combined 0 for 11 from the field.
Crowder with the putback. Horrible boxing out by the Lakers. Nobody picked him up.
The King's Speech: Effortless pic.twitter.com/57SCDOjRw3

— Los Angeles Lakers (@Lakers) May 26, 2021
Drummond again to help stop the bleeding. This is a really nice matchup for him considering how small the Phoenix backups are.
The Lakers had two players in the middle of the paint on B2B possessions while Cam Johnson hit a pair of completely wide-open 3's from opposite sides of the court.
Those negated a pair of LeBron shots, and LAL's lead is 79-72 with 12 minutes to play.
Suns vs Lakers Live Quarter 3
Cam Johnson B2B 3-pointers, beats the buzzer. Lakers lead 79-72 at the end of 3
LeBron again! The degree of difficulty on these shots is through the roof. It looks like Game 5 against Denver all over again.
Davis gets a timeout there. The Suns are playing much more aggressively on defense and it's helping them claw their way back into this game.
Anthony Davis with the triple! He has 20 points, 6 assists, and 7 rebounds.
Lakers are 23-4 in the last 2 seasons when Anthony Davis takes at least 10 FT's.
He's 9 for 11 tonight.
More free throws for Anthony Davis. That has quietly been one of the keys to the night for the Lakers.
Alex Caruso, who is 6-4, just blocked DeAndre Ayton, who was shooting 95% in this series.
Marc Gasol and Kyle Kuzma are going to be the first reserves off the bench for the Lakers in the second half, but look for the rotation to revert to its original state.
Davis is likely going to stay in the game now with his foul trouble less of a concern while LeBron takes a seat and returns late in the quarter.
If Anthony Davis is going to the basket and playing like a center? Mikal Bridges can't defend him. But if Davis is settling for jumpers? Bridges is the perfect defender for him, and it allows the suns to keep Jae Crowder away from him and further foul trouble.
A dominant burst from LeBron, AD and the Lakers out of the halftime gates here. It's a 10-1 run where LAL have been bigger, faster and stronger.
They lead 63-48.
Strong start to the 3rd Q from LeBron, AD and LAL: LeBron drilled his 2nd 3 of the game; LAL got a turnover on the other end; and Davis converted an and-1 through Ayton's (3 PF's) contact at the rim.
LAL up 59-47, their biggest lead.
The Lakers are running again. That's the most important development from this game. They're up 15 and controlling the pace of this game completely.
LeBron just intentionally lulled angled himself between Ayton and Bridges specifically to make one of those impossible passes that only he can make.
Suns vs Lakers Live Quarter 2
LeBron misses the stepback, Payne misses the rushed layup, and we're going into the locker room at 53-47 Lakers.
https://twitter.com/i/status/1397390256014434310
It's the pass and the dunk 😤#RallyTheValley 𝐓𝐎𝐆𝐄𝐓𝐇𝐄𝐑 pic.twitter.com/3yBF5SX7kZ

— Phoenix Suns (@Suns) May 26, 2021
Tuff block, tuff drive.

(📺: @SpectrumSN ) pic.twitter.com/Cvtt2WTOwZ

— Los Angeles Lakers (@Lakers) May 26, 2021
More good stuff from Drummond tonight. He's now up to an 11-point, 10-rebound double-double in his 11 minutes and he's +14 with LAL up 49-38.
Big 2nd Q scoring from Dennis Schroder when LAL were struggling to hit open shots. He has a pair of 3's and a layup after a blow by of Booker.
Timeout Suns as the Laker lead has grown to 11.
In Game 1 it was AD, this time it is Caldwell-Pope who is having a slow day in the office.
The Lakers continue to miss wide-open 3's. They're 2 for 13 thus far.
PHX has taken advantage of that plus the unnecessary late fouls in the 1st Q to trim LAL's lead down to 2 at the 8:18 mark of the 2nd Q.
Anthony Davis draws another foul. That's his 3rd foul. When the half-court offense creaks, he tries to get to the line.
Book things 🤯

📺 @BALLYSPORTSAZ pic.twitter.com/WTHdMv5a6P

— Phoenix Suns (@Suns) May 26, 2021
That call was just overturned on the floor without a review. That pass was tipped, so it'll stay Laker ball.
Suns vs Lakers Live Quarter 1
LeBron finally goes to the bench. He usually takes his rest in the first quarter, but because of Anthony Davis' foul trouble, they changed things up tonight.
Phoenix will just not learn its lesson on doubling LeBron in the post. They got bailed out by the shot rimming out, but it's another open 3 for the Lakers.
Caruso with the effort play and that leads to the LeBron 3 that is unfortunately wiped away by an offensive foul.
😤 DOMINAYTON 😤 pic.twitter.com/026LUKsoDv

— Phoenix Suns (@Suns) May 26, 2021
The Suns are hunting for Gasol in space knowing that his mobility is limited. The Lakers are going to have to rotate effectively to protect him. That's why they defended so well when Gasol played next to Anthony Davis.
Call that a chemistry oop 🧪 pic.twitter.com/jZdtaLVCpm

— Los Angeles Lakers (@Lakers) May 26, 2021
The Lakers are doing everything in their power to get Anthony Davis going early here. LeBron hasn't done much in the half-court.
Interesting to see Kyle Kuzma as the first reserve off the bench, but coming into the game alone. Usually, he'll come in with Alex Caruso at around this point.
Steal, Slam, 👑 pic.twitter.com/XxAfwMuhqL

— Los Angeles Lakers (@Lakers) May 26, 2021
That's five turnovers for the Suns in the first five minutes. They can't win playing that sloppily, but they're only down two. They've gotta be happy with that.
Drummond has 4 points and 5 rebounds, 2 offensive. All his 4 points came with putback baskets.
The Lakers are getting in foul trouble. Caldwell-Pope fouled Booker in the very next possession.
Davis has 2 fouls in just the 1st quarter.
Anthony Davis is playing for fouls right now. It's not a bad decision, and he's going to the line again. If he can get Ayton off of the floor, he'll feast against Frank Kaminsky and Dario Saric.
Davis misses at the basket. DeAndre Ayton looks much more comfortable defending him than he did two weeks ago.
LeBron tries to answer with a 3 but misses. Drummond sits right under the basket for the putback, but he fouls Chris Paul the next time down the floor.
Suns vs Lakers live:Davis makes one and misses the second. We've seen far too much of that this season. He shot only 73.8 percent from the line this season, down more than 10 percent from last season.
So the defensive foul on Crowder remains. He, therefore, has two. HOWEVER, Anthony Davis was also called for a flagrant on the kick out. So now, Davis gets two free throws, then Crowder will, then Phoenix gets possession.
Anthony Davis is given a flagrant 1 for a kick on Crowder.
They're reviewing the foul as Crowder gets looked at on the bench.
Jae Crowder is down. It looks like he got kicked on the shot attempt by Davis there.
Much, much better energy from the bigs so far tonight. Davis opens the game with a block. Drummond swats away an entry pass on the pick-and-roll.
Anthony Davis opens the game with a block. That's a sight for sore eyes.
Suns vs Lakers Live Starting 5 and Pre-Game Updates
Punching in: pic.twitter.com/dBjxLaRoi1

— Los Angeles Lakers (@Lakers) May 26, 2021
Tonight's FIVE #RallyTheValley 𝐓𝐎𝐆𝐄𝐓𝐇𝐄𝐑 pic.twitter.com/W6CKiNsgjT

— Phoenix Suns (@Suns) May 26, 2021
Today's injury update for Suns:
Abdel Nader: OUT – Right Knee Arthroscopy
NBA Playoffs to be live-streamed in more than 200 countries. Watch NBA Playoffs Live here.
Match Details: Phoenix Suns vs LA Lakers
Time: 07:30 A.M. (IST)
Date: 26-05-2021
Venue: Talking Stick Resort Arena, Phoenix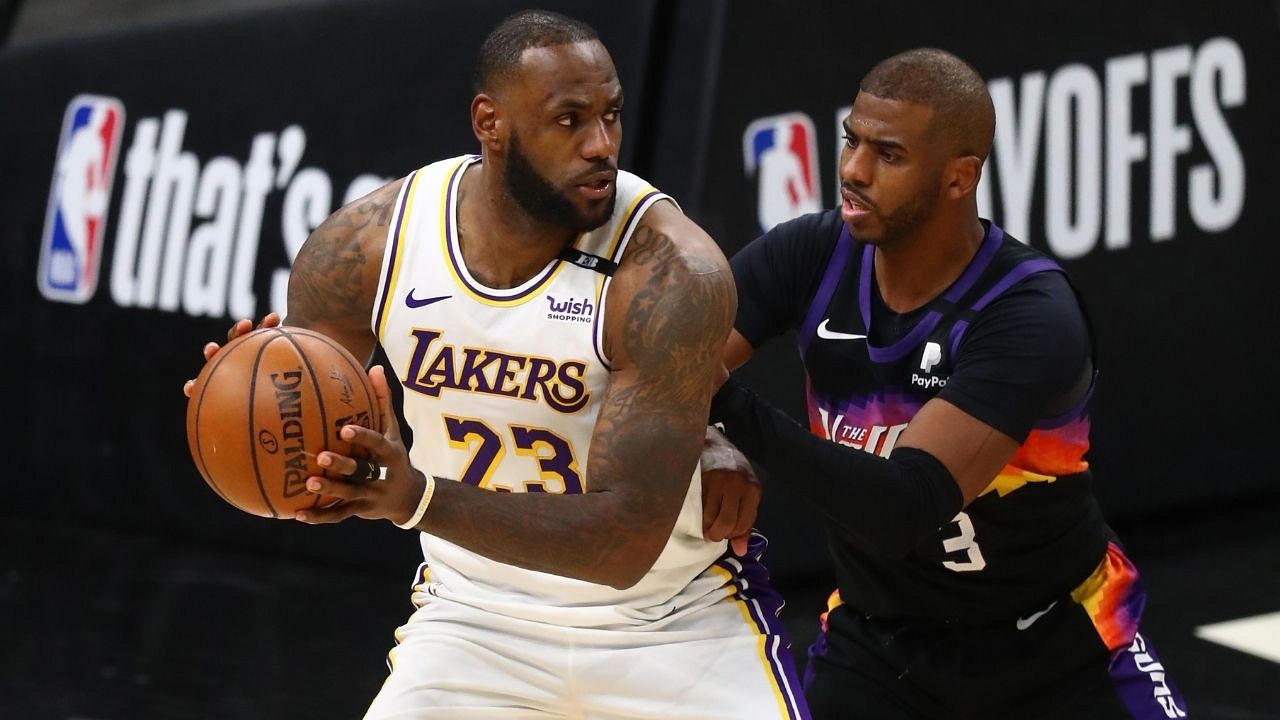 NBA TV coverage: Suns vs Lakers live in NBA Playoffs 2021
NBA games will be broadcasted nationally across ESPN and TNT.
NBA Playoffs 2021 Live stream: Suns vs Lakers live stream
Every game will be available live via NBA TV, while the nationally broadcast game will also be available via ESPN digital platforms.
NBA Playoffs Schedule: Find the latest NBA Playoffs Schedule here