Tokyo Olympics: India recorded its highest-ever medal tally in the Tokyo Games. Javelin thrower Neeraj Chopra bagged a gold medal for India on Saturday and as a result, India registered its first-ever gold in athletics at the Games. Bajrang (bronze), Mirabai Chanu (silver), PV Sindhu (bronze), Lovlina Borgohain (bronze), men's hockey team ( bronze), and Ravi Kumar Dahiya (silver) also won medals in the Tokyo Games. However, with the Olympics now over, let's look at the next big challenge for the Indian medal winners.
While the next big challenge for all these athletes would be the 2022 Asian Games as they represent the country in China, there will be other major tournaments coming up for the athletes as well.
Tokyo Olympics: The next big challenge for the Indian medal winners after the Tokyo Games
1. Neeraj Chopra
Javelin thrower Chopra on Saturday had won a gold medal and this was the first medal won by an Indian athlete in track and field in the Games. Upon arriving at Indira Gandhi International Airport here in New Delhi, Neeraj was swamped by supporters and they played dhols to give a thunderous response to the 23-year-old's historic feat back in Tokyo.
While his big challenge, much like others on the list will be to focus on the Asian Games next year, here are the list of events he will also be participating in: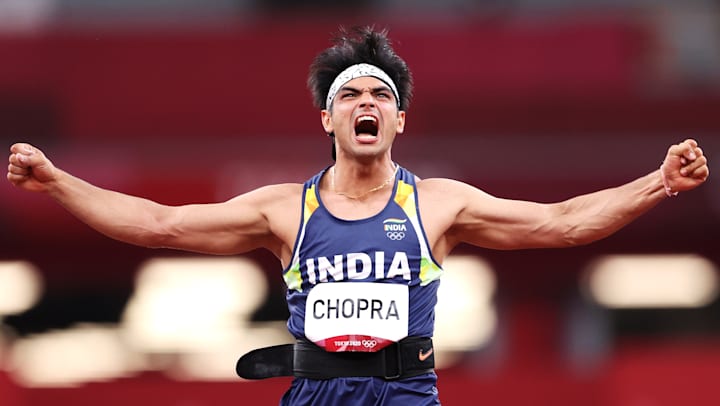 After pulling out of the Gateshead Diamond League on July 13, Chopra had said that he could participate in the remaining legs of the elite one-day meeting series after the Olympics.
"I was just focussing on Olympics this year. Now that I have won the gold, I will plan ahead for the upcoming competitions. After coming to India, I will again look for a foreign visa to take part in international events," he added.The Lausanne (August 26) and Paris (August 28) legs as well as the Zurich finals (September 9) will have men's javelin events.
Tokyo Olympics Felicitation Ceremony: Golden boy Neeraj Chopra's big message, 'Never fear the opposition'
2. Indian men's hockey team
The Indian men's hockey team, which ended a 41-year medal drought by clinching a bronze medal in Tokyo, rose to 3rd in the International Hockey Federation (FIH) World Rankings, behind Belgium and Australia, respectively.
Before this feat, the Manpreet Singh-led side's career-high ranking was No.4, which they achieved in March 2020 on the back of their scintillating performances in the first three rounds of the second edition of FIH Hockey Pro League 2020.
We will see the Indian men's hockey team back in action in October at the Asian Champions Trophy in Bangladesh.
It was formerly registered to be held from 17 to 27 November 2020 at the Maulana Bhasani Hockey Stadium in Dhaka, Bangladesh. However, in August 2020 the Asian Hockey Federation declared that the tournament would be delayed because of the COVID-19 pandemic in Asia to 2021 to be held from 11 to 19 March 2021. In January 2021 the tournament was postponed again and it will now be held fr60 1 to 9 October 2021.
Tokyo Olympics: Medal winners receive 'Grand Welcome', felicitated by Govt; As it happened; watch videos
Tokyo Olympics: The next big challenge for the Indian medal winners after the Tokyo Games
3. PV Sindhu
India's badminton queen PV Sindhu returned home after yet another triumphant Olympics campaign as the 26-year-old clinched a bronze medal at the Summer Games. Sindhu became the first Indian female athlete to win two medals at the Olympics, with the 2020 bronze following her 2016 silver medal at the Rio Olympics.
The star is here 😍@Pvsindhu1#SmashedfortheGlory#Badminton #Tokyo2020 pic.twitter.com/LVy7n5X3Fd

— BAI Media (@BAI_Media) August 3, 2021
PV Sindhu returned to India following a successful Olympics triumph and received a warm reception in Delhi while on her way to Hyderabad. The 26-year-old and her team, which included her Korean coach Park Tae-sang. Badminton Authority of India (BAI) general secretary Ajay Kumar and other badminton officials presented Sindhu with a bouquet upon arrival. The Indian badminton queen will meet sports minister Anurag Thakur later in the evening.
There are numerous tournaments coming up in the field of badminton. The earliest is the Korea Open that starts on the 31st of August to the 5th of September in Yeosu City, Korea. It is followed by Yonex Taipei Open from the 7th of September to the 12th of September.
Tokyo Olympics: PR Sreejesh declares, 'will try to make winning a 'habit"
4. Mirabai Chanu
Mirabai Chanu gave India the first medal in Tokyo Olympics, bagging silver in the women's 49kg category in weightlifting. Mirabai Chanu lifted a total of 202 kg (87kg in snatch and 115kg in clean and jerk) during her four successful attempts across the competition.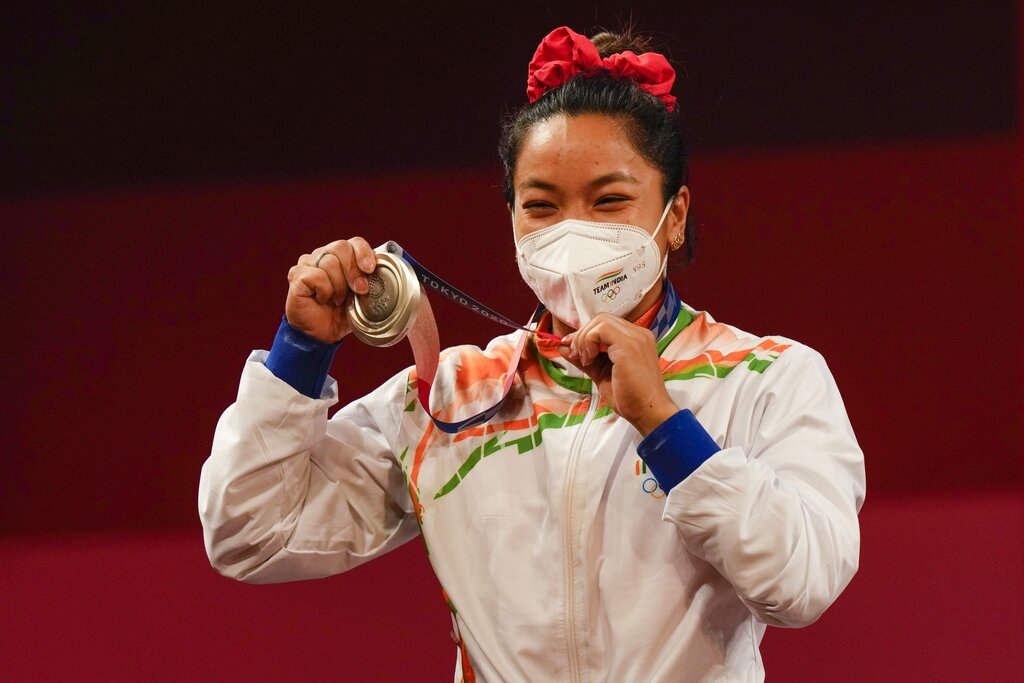 Mirabai Chanu got off to a flying start after she completed her lift of 84 kg in the first attempt in snatch. Manipur-born weightlifter then proceeded to complete the 87kg weightlift with ease but failed to complete the 89kg lift in her last attempt.
We might see the Tokyo Olympics silver-medalist in action again in November at the Asian Championships qualification level.
Tokyo Olympics: Silver-medalist Ravi Dahiya reveals the truth behind Kazakh wrestler's bite-tale, 'He hugged me and said sorry brother'
Tokyo Olympics: The next big challenge for the Indian medal winners after the Tokyo Games
5. Lovlina Borgohain
Tokyo Olympics bronze medallist Lovlina Borgohain stated that her next aim is to bag gold at Paris 2024 after she arrived in India to a grand welcome on Monday.
"I want to say thank you to all. I am feeling good after coming back to India," Lovlina told reporters at the airport. "I will try to change this bronze to gold." Talking about her plans for the future, she reiterated: "I want to bring a gold medal to Paris Olympics."
"Playing against the world champion was a privilege. But it's not like she is unbeatable. I will have to analyze the fight to know what I could have done better. Once I do that, I will have to start working," said Borgohain.
For now, though, she will be taking a break from boxing for some time. The past few months have been really difficult for her in every sense and she needs all the rest she can get, both physically and mentally.
Tokyo Olympics: From Neeraj Chopra to Indian hockey, medal winners receive resounding welcome on return, felicitated by Govt in grand ceremony
6. Ravi Kumar Dahiya
Gracious in defeat, young Indian wrestler Ravi Dahiya said perhaps he deserved only a silver medal at the Olympics at this stage and will strive to get better to complete the unfinished task of winning gold at the 2024 Paris Games.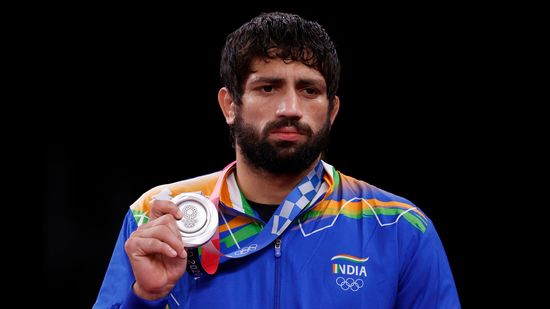 With an exceptional performance in the Tokyo Olympics, Ravi Dahiya gave India its 2nd silver medal. In the gold match, Dahiya tried every trick to breach the defense of world champion Zavur Uguev but the Russian wrestler stayed solid in his defense, never allowing the Indian to launch his famously relentless attacks.
However, he is still young and has a lot left in him. Wrestling fans will get a glimpse of him in the World Championships in October in Norway.
Tokyo Olympics: Jaspal Rana slams NRAI & Manu Bhaker for disaster in Shooting at Olympics, ask 'why was Manu given go-ahead to participate in 3 events' 
7. Bajrang Punia
Bajrang Punia won a bronze medal in the men's freestyle 65kg category after defeating Kazakhstan's Daulet Niyazbekov on Saturday. He defeated Niyazbekov 8-0 in the bronze medal match.
Tokyo Olympics: "I want to thank everyone for their prayer, love, and support as I could win a medal in Olympics. I also want to thank the Wrestling Federation of India (WFI) and supporting staff," Bajrang Punia said.
"I'm disappointed that I couldn't win the gold medal but I'll try to win it in Paris Olympics in 2024," he added.
We will get to see more of Bajrang in the World Championships in October in Norway, just like Ravi Kumar Dahiya.
Tokyo Olympics: The next big challenge for the Indian medal winners after the Tokyo Games